10 April 2008 Edition
Agency workers issue a 'deal-breaker' in pay talks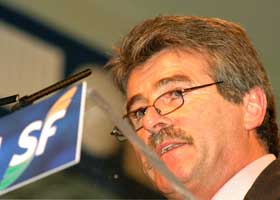 BY JOANNE SPAIN
IN a further development in Sinn Féin's campaign on agency workers, following an initiative by Louth TD Arthur Morgan, some of the country's biggest trade unions told the Dáil Committee on Enterprise, Trade and Employment last week about the levels of exploitation of agency workers.
Those who attended were Patricia King, SIPTU Regional Secretary for Dublin; Christy McQuillan, SIPTU Regional Secretary for the Midlands and South-east; Anne Speed, SIPTU National Campaigns Organiser; David Begg, General Secretary of the Irish Congress of Trade Unions (ICTU); Esther Lynch, ICTU Policy Officer; Jimmy Kelly, UNITE regional secretary; and Jerry Shanahan, UNITE national officer.
Arthur Morgan had asked the Dáil committee, of which he is a member, to invite the unions in to present evidence of exploitation and the union campaign to combat it.
The latest move by Sinn Féin follows the party's shared Private Members' Business with the Labour Party in February, when it called for the Government to introduce legislation based on the principle of equal treatment.
Sinn Féin has continuously highlighted the problems for agency workers, including the fact that they are lower paid than directly employed workers and have no rights and entitlements. They are increasingly being used by Irish employers to avoid Irish labour law and to depress wages and conditions.
At the committee meeting, Morgan asked David Begg, head of ICTU, if the issue of agency workers could be a potential deal-breaker in the current round of pay talks.
Begg answered that it would be a deal-breaker and agreed with the points Morgan had made about agency workers.
Morgan again restated that legislation from the Government must bring equality for agency workers and not just be about regulation or skim the surfaces of what is needed to end the exploitation.