10 April 2008 Edition
Barney Morris 85th anniversary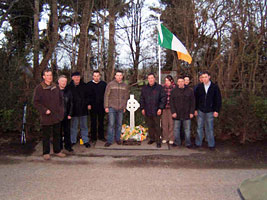 REPUBLICANS have commemorated the 85th anniversary of the killing of Volunteer Barney Morris by Free State soldiers on 1 April 1923 at the age of 23.
Barney Morris lost his life during an attack on an IRA meeting on Larkin's Road in 1923.
There are many lasting reminders around Crossmaglen to the memory of Barney Morris. Two most notable are the memorial in the centre of The Square and the local Morris/Harvey Sinn Féin Cumann, which takes part of its name from Barney Morris.
The Memorial Committee was set up in 1947 and it first was concerned with the erection of a headstone for Barney Morris's grave. Once this had been completed, the committee members set their sights even higher and arranged for the creation of a lasting monument to commemorate everyone who had played a part in the struggle for Irish freedom. The monument on The Square today is the culmination of this work.
When a new Sinn Féin cumann was created in Crossmaglen in 1971 the people again looked towards Barney Morris for inspiration and to this day the name of Barney Morris is carried high over the heads of current cumann members whenever the cumann banner is brought to parades the length and breadth of Ireland.