10 April 2008 Edition
Sinn Féin TD asked to leave Dáil after standing up for north-east hospital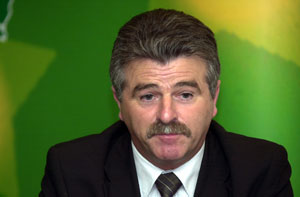 LOUTH Sinn Féin TD Arthur Morgan was asked to leave a Dáil debate on Tuesday when he stood up for hospital services in the north-east. Earlier, Morgan and Sinn Féin Health spokesperson Caoimhghín Ó Caoláin had called Fianna Fáil TD and Foreign Affairs Minister Dermot Ahern to account for saying there is "not one red cent" coming from the Government to pay for the regional hospital it had promised for the north-east.
Speaking after he was asked to leave the Dáil chamber by Ceann Comhairle John O'Donoghue, Arthur Morgan said:
"This government and the Health Service Executive are trying to take the people of the north-east region for a ride. They have taken services out of hospitals while promising the people that their problems will be solved once a new regional hospital is developed. Now Dermot Ahern tells us there is no money for this project.
"HSE chief Professor Drumm says it may or may not happen but Monaghan, Dundalk and Our Lady's Hospital, Navan will continue to be stripped of services. The Taoiseach agrees with Professor Drumm.
"Health Minister Harney hasn't opened her gob on this issue and the Taoiseach is happy to be departing so that he does not have to deal with the consequences of our crumbling public health services as a direct result of his and Mary Harney's policies.
"This is the biggest issue facing the people of the four counties of Cavan, Monaghan, Louth and Meath and the Sinn Féin TDs will continue to challenge the Government inside and outside the Dáil chamber."
Sinn Féin Health spokesperson Caoimhghín Ó Caoláin said:
"At every stage in recent years when services were cut in Monaghan General Hospital and other hospitals we were told that a new centralised regional hospital would provide the solution.
"Now a senior Government minister tells us there is not a 'red cent' in Government coffers for such a hospital. If that is the case then when will the slashed services be restored to local hospitals?"