10 April 2008 Edition
Assembly to debate transfer of British military site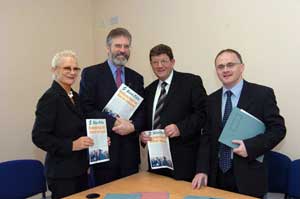 THE Six-County Assembly is to debate a Sinn Féin motion calling on the British Government to transfer lands at vacated military sites at Lisanelly and St Lucia in Omagh to the North's Executive for an education village proposed by the Omagh Educational Campus Group.
Sinn Féin's three West Tyrone MLAs – Pat Doherty, Barry McElduff and Claire McGill – are co-sponsors of the motion before the Assembly next Monday.
In a joint statement, they said:
"If this motion secures the unanimous backing of the Assembly, which we believe it will, it will represent a major boost in the efforts to get the British Government to transfer the necessary lands at these vacated military sites for this unique secondary Education Village Campus.
"Recently, British Secretary of State Shaun Woodward said that the continued failure to make a decision on the Long Kesh site was undermining the case for seeking the transfer of additional lands like Lisanelly and St Lucia from the British Government to the Assembly Executive.
"The unanimous backing of the Assembly for our motion will remove this red herring of an argument belatedly introduced by Shaun Woodward and refocus attention back on the British Government's lack of vision and political will on this issue to date.
"For this visionary project, in which a space which was used for such negative purposes in the past to go on to be used for such a positive purpose, would provide an inspirational beacon to the world in terms of conflict transformation.  
"The British Government has within its gift the ability to make this happen and must be made to rise above short-term, selfish financial considerations and look at the bigger picture."