6 March 2008 Edition
Sinn Féin Ard Fheis 2008 : Environment and Climate Change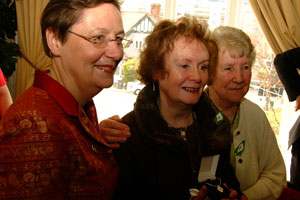 Incinerators, develepors and voters

BY ROBBIE SMYTH

DELEGATES made their cases for and against motions on climate change, incineration, planning laws, voting, national parks and the Shell pipeline in Rossport in a vibrant debate on Environment and Climate Change that kicked off the first session of the weekend's Ard Fheis.
Six-County MEP and a member of the European Parliament Committee on Climate Change Bairbre de  Brún opened the section, supporting the Ard Chomhairle amendment to Motion 1 which called for an "all-Ireland target of reducing our emissions by 80 per cent from 1990 levels by 2050" with a rate of reduction that "should be an average of at least 3 per cent per annum".
Highlighting the 27 per cent of household energy consumption that is wasted by appliances left on stand-by, Denise Mitchell (Dublin North-East) called on manufacturers of electrical appliances to discontinue the use of standby functions.
Jim Monaghan (Walkinstown, Dublin) made the case for Motion 5 that "environmental, social and economic sustainability is at the core of all government policy". Jim Monaghan said: "A prosperous future is possible if we organise the people and the resources."
Dublin City Councillor Críona Ní Dalaigh spoke in favour of two motions from the Emmet/Clarke Cumann in Dublin.
Motion 14 called for the introduction of a penalty points system to tackle developers who "continuously flout planning conditions". Only 15 per cent of the city council's planning budget is spent on enforcement and the quality of life of residents is being affected by bad quality building, she said.

NORTH-WEST RAIL CORRIDOR
Muireann Meehan-Speed (Trinity College Dublin) spoke in support of the motion calling for the introduction of a rail corridor linking Derry, Letterkenny, Sligo, Galway, Ennis and Tralee saying "successive governments have ignored the north-west and Donegal is effectively isolated".
Monaghan Councillor Matt Carthy spoke forcefully on Motion 15, which highlighted concerns of communities in Monaghan regarding the decision of Environment Minister John Gormley to intervene in the county development plan.
Carthy said that it is easier for "Dublin 4 politicians to finger point" than engage with communities in Monaghan. Powers should not be removed from the local communities or their representatives, he said.
Carthy spoke against Motion 14 on penalty points for developers, as did Cahir delegate Muiris Ó Suilleabhain. Carthy said: "We don't need new laws, we need implementation of the laws we already have."
Sinn Féin Vice-President Pat Doherty spoke against Motions 16 and 23. Motion 23 called for the holding of elections at the weekend or on public holidays. Doherty said that with people working increasingly long hours we should respect their right to public holidays and leave them free for leisure and families. The motion was amended to call for voting at weekends but not on public holidays and was passed.
Dublin City Councillor Daithí Doolan told the Ard Fheis that climate change is the single greatest threat we now face and he highlighted the approach taken by Sinn Féin councillors in Dublin. The Dublin strategy is a five-year plan linked to the Kyoto agreement which focuses on waste management, transport, energy and climate change proofing council policy in these areas.
Oisin Ó Dulaing got loud applause from the floor when he highlighted the plight of the people of Rossport under siege by police and Shell workers.