6 March 2008 Edition
Sinn Féin Ard Fheis 2008 : Building a Prosperous and Equal Economy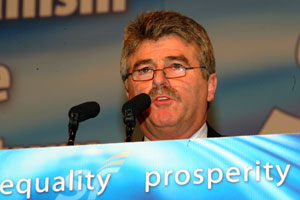 Delegates back 'progressive redistributive tax system'
SINN FÉIN'S Dáil spokesperson on Economic Affairs, Arthur Morgan TD, opened the section on Building a Prosperous and Equal Economy.
Moving Motion 205 on behalf of the Ard Chomhairle, Morgan spoke of changing economic circumstances:
"Job creation has slowed down and job losses – particularly in sectors such as construction – are increasing. Ireland is not competitive."
Morgan slammed the Government for "not doing enough to create jobs in employment black-spots". He also criticised the Government for its failure to vigorously encourage and facilitate entrepreneurship and the development of indigenous enterprises.
Morgan reiterated Sinn Féin's commitment to improving capacity and quality in public services:
"We know that this would require healthy public finances. We know it may require action to increase the revenue available to government."
He argued that Motion 205 sets out Sinn Féin commitment to the provision of public services funded by way of a progressive redistributive tax system where revenue is raised in a fair, transparent and accountable manner on the basis of what is needed to meet social goals and other spending demands. 
That same Ard Chomhairle motion and Motion 208 from the Clarke/McVerry Cumann in Dublin led to a lively debate, particularly around the issue of taxation.
Sinn Féin Dáil leader Caoimhghín Ó Caoláin TD spoke in support of Motion 205 and against Motion 208 which called for a more detailed tax policy to be ready by the 2009 Ard Fheis.
Referring to commentary around Sinn Féin's pre-election position on taxation in the 26 Counties, Ó Caoláin said:
"Make no mistake about this: Sinn Féin made no U-turns. What it did do was change the presentational emphasis. We never shirked our central point. Sinn Féin in government, if necessary, would raise taxes across a raft of different identifiable areas in order to deliver quality public services."

PUBLIC SERVICES
Dublin South Central TD Aengus Ó Snodaigh argued that the Ard Chomhairle position was too conservative. He said Sinn Féin has developed in recent years "progressive and comprehensive policies" on health, education and other social issues. "Implementing those policies costs money, and the failure of Fianna Fáil and Fine Gael governments to provide world-class public services to address issues of unequal development and poverty and inequality is directly related to the low levels of taxation in this state."
He said Sinn Féin was unable to explain how it would fund the type of public services it wanted for society and that the Ard Chomhairle motion did not propose sufficient increases to the overall tax take or how to address the issue of redistributing the tax burden from the middle-and low-income earners to those who are most able.
Jim Monaghan (Dublin) said delegates should not focus on tax rates above everything else in the economy. "An economy is about generating wealth. Taxation is about redistributing it. Don't mistake a taxation policy for an economic policy."
Calling for a clearer policy to raise taxes on high earners, Eoin Ó Broin (Clarke McVerry Cumann) said Ireland is one of the most unequal societies in the world and Sinn Féin should explain why the total tax take must be increased, with the burden falling on higher earners.
Shannonbrooke Murphy (Galway) said tax rates should be "set down on the basis of need". She added:
"We do need to have the policy available to answer the question about how we should have the money available to pay for better services." She urged delegates to support both motions 205 and 208.
Party Chair Mary Lou McDonald said a debate about taxes "can't take place in the abstract". "We are for first-class public services. They have to be paid for," she said.
Motion 205 passed while motion 208 was rejected by delegates.