6 March 2008 Edition
Doherty makes impassioned call for fightback for the West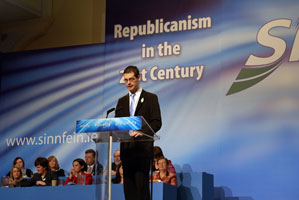 In his introduction to Gerry Adams' Presidential address to the 2008 Sinn Féin Ard Fheis, the party's newly elected Senator Pearse Doherty made an impassioned plea for the future of the west of Ireland.
"At 5pm on Thursday, 9 January four postmasters turned the lock of the door of their post offices for the last time ending in some cases over 60 years of postal service in those communities.
What they had in common was that these post offices were all in the west of Ireland — in Roscommon, Mayo and Donegal."
He said the list of such closures was endless.
"Whether it is the loss of traditional faming, fishing or manufacturing jobs or the closure and running down of public services such as health, the withdrawal of public transport, the closure of rural schools, shops, pubs or Garda stations, all this highlights one clear fact — the West of Ireland is suffering a death by a thousand cuts."
Fightback
Doherty said it was time for the West to fight back.
"As a proud west of Ireland man I, like every other person from Malin Head to Mizen Head, demand fairness. We too are tax payers. We too have a right to a decent job, have a right to proper transport links, a right to adequate pubic services a right to all of the amenities that allow you to live a full life.
It is time to fight back.
"Is é an seod is luachmhar ata ag an iarthar nó an Ghaeltacht agus arís tchíonn muid an Ghaeltacht ag cúladh. Tá níos lú agus níos lú daoine ag labhairt an ghaelic sa ghaeltacht. Tá I bhfad níos mó cainteoirí bearla nó cainteoirí gaeilge I go leor ceanntaireacha gaeltachta anois.
"Léiríonn na firicí atá sa staidéar teangeolaíocht ar úsaid na gaeilge sa ghaeltacht a foilsíodh roimhe na Nollaig go bhfuil muid ag croissbhealach ó thaobh na gaeltachtaí. Go bhfuil athrú meona athrú intinne agus athrú polasaithe rialtais de dhíth má tá an ghaeltacht le mairstint sa todchaí.
Insíonn an staidéar duinn nach bhfuil ach idir cuig bliana déag agus fiche blian fágtha ag an ghaeltacht is láidre inniú.
Tá cinneadh againn le déanamh agus cinneadh le deanamh ag pobal na gaeltachta – an bhfuil muid sásta go ligfimid an ghaeltacht imeacht nó an bhfuil muid sásta troid ar a son
Deirim le muintir na gaeltachta gur é seo an t-am le troid ar ais."
The Donegal Senator said that the weekend Ard Fheis had heard stories of hardship including one about the elderly man from the west who stopped travelling to Dublin for chemotherapy treatment rather than face the traumatic trip by bus for fear of being sick.
Stories of hardship
"That man later died at home", he said
"We heard of the two women from the west, one, a lone parent and one, the mother of disabled children who opted for a mastectomy rather than place a heavy burden on their families by travelling hundreds of miles to Dublin for treatment."
He said that such a situation should not be tolerated in this day and age and on behalf of Sinn Féin he extends an invitation to elected representatives from all parties and none and all organisations representing the west of Ireland, to come together to agree a platform to ensure the survival of the west.
"No one party or no one organisation is capable of tackling the problems of rural Ireland alone, but as the Irish proverb say 'Ní neart go cuir le chéile'
"So let us stand together, let us agree a common platform and let us begin the fight back for the west of Ireland", he said.