6 March 2008 Edition
Sinn Féin Ard Fheis 2008 : Rural Regeneration and Regional Development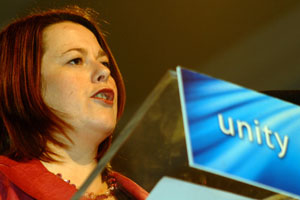 Delivering for rural communities

BY PHILIP LACKEN

ISSUES discussed in the Rural Regeneration and Regional Development section included protection for family farms, a ban on GM crops, an increase in grant aid for energy crops, more flexibility in the Single Farm Payment (SFP), a lowering of the upper limit for SFP, and the renegotiation of the Common Fisheries Policy.
Motions carried included an end to the illegal plundering of Irish fish stocks, balanced regional development in the north-west, a 'Spread the Wealth' campaign in order to wean us off our economic dependency on Dublin. The only motion defeated was 146, which called for 50 litres of free drinking water per person per day. Delegates instead voted to have water supplied through general direct and progressive taxation.
Michelle Gildernew addressed the Ard Fheis for the first time as Northern Minister for Agriculture and Rural Development. She said that Sinn Féin has achieved a great deal since May in delivering the three principal policies: tackling issues on an all-Ireland basis, a comprehensive equality programme for civil servants and dismantling the legacy of direct rule, and closer relations with the EU in regard to agriculture and the fishing industry. Minister Gildernew stated that she is determined to deliver for rural communities in the global market.
Opposing the importation of Brazilian beef and calling for a renegotiation of the Common Fisheries Policy, Councillor Paul Hayes (West Cork) told of 9,000 tonnes of fish being caught illegally in Irish waters amounting to €45million each year. He also stated that Ireland's farming diversification into organic and speciality foods is being severely hampered by the lack of broadband internet.
Delegates also heard speakers addressing the dangers of GM food and the threat to public health with its widespread use. Martin Ferris TD warned of a "leeching" of power to a centralised Europe at the expense of traditional family farms and fishing communities" and called on all political parties and non-governmental organisations who care about rural Ireland to come together to tackle the employment problems as well as the running down of social, health and transportation services in Ireland's cultural heartland.
Also speaking to the Ard Fheis for the first time in a ministerial capacity was Newry MP and MLA Conor Murphy, Minister for Regional Development.
He said that direct rule had eroded public trust and confidence in the delivery of water reform. Ruling out privatisation of water now or in the future, Conor Murphy insisted that people should not have to pay twice for water and sewerage services and that water payments in the Six Counties should be based on the capital value of homes. This should be done through an affordability tariff in order to protect those who can least afford to pay. He said that Sinn Féin is addressing the infrastructural deficit in the Six Counties with the multi-billion Investment Strategy along with a €109 million investment in rail and bus services.
The Newry MLA and MP also promised free public transport for those aged 60 and over. Calling on the Dublin government to ensure that all future national development plans be formulated on a 32-county basis, he said that we are a society not just in transition but in transformation. 
Delegates voiced their support for the community living in the vicinity of the North/South electricity interconnector and called on Eirgrid to develop plans to direct the power cable underground. The motion condemned An Bord Pleanála's atrocious record of implementing unpopular and undemocratic planning decisions.