6 March 2008 Edition
Sinn Féin Ard Fheis 2008 : Health, Childcare and Children's Rights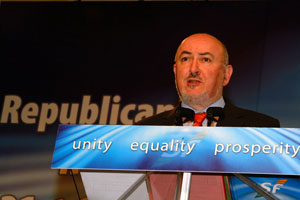 Harney the 'wrecking ball' in Irish health service

BY HELEN McCORMACK

HEALTH MINISTER Mary Harney is "the wrecking ball" of the health service, according to Sinn Féin Health spokesman Caoimhghín Ó Caoláin TD but he added that Bertie Ahern is the person who ultimately holds the controls.
The debate on Health, Childcare and Children's Rights was dominated by delegates citing the gross failures in the Irish health services throughout the country.
Ó Caoláin spoke of the closure of A+E departments in every county, in contrast to the opening of private, for-profit clinics, hospitals and other facilities. He paid tribute to cancer sufferer Susie Long who had spoken of her situation prior to her death last year. Her belief that treatment should be based on need and not ability to pay had touched a chord for the many thousands who heard her story, he said.
The Cavan/Monaghan TD accused the Irish Government's current policies on health of having more to do with book-keeping than the provision of quality health services. He called for more negotiation on the Pharmacy Bill to ensure fair competition and value for money and criticised Government failure to extend medical card eligibility.
Primary care services are under siege as we witness the chronic shortage of GPs in some areas, often those areas witnessing an increase in the population, he said.
He demanded the immediate publication of the long-awaited Dunne Report on the retention of children's organs as the refusal to release this report is adding to the distress of parents already devastated by the removal of their children's organs for sale to pharmaceutical companies.
Carál Ní Chuilín MLA, Health spokesperson in the North, outlined the link between poverty and ill-health and of Sinn Féin's commitment to tackling health inequalities. There is a pressing need to deal with waiting lists, she said. Children, especially, in need of treatment should not have to wait. She called for improved investment in health services throughout the island and highlighted the needs of the north-west in particular.

CLOSURES
Councillor Imelda Munster (Drogheda) focused attention on the crisis affecting Drogheda Hospital, a scenario replicated in many other hospitals. Her graphic description of the current use of the Out-patient Department for overnight stays, patients on trolleys and the additional hazard of cleaning staff unable to access areas due to over-crowded corridors resonated with many.
Seán Crowe (Tallaght) described the cynical pre-election promises made last year that Tallaght Hospital was not at risk of cutbacks. But the reality is that its A+E department – which last year treated 78,000 patients – has only one consultant instead of the four needed to provide a quality service. When you consider that up to three life-threatening events may occur on any given day in a major A+E department, he said, such cutbacks are "reprehensible".
A number of delegates from the north-east spoke of the pending closure of the Dóchas Centre in Drogheda, a one-stop service for women with cancer for treatment and other adjunct services. The lack of consultation was condemned and the closure will be strongly opposed, delegates said.
Many speakers were critical of the inadequate Government response to provision of mental health services and demanded a co-ordinated response to suicide prevention. The current budget for mental health services was described as "pathetic" and many speakers sought support for Motion 169, calling for the establishment of a 24-hour helpline as part of a suicide prevention strategy.
A message of solidarity was sent to women in Mayo fighting to retain their cancer services in Mayo General Hospital.
The new childcare proposals will have a negative effect on services, Councillor Louise Minihan claimed. This new scheme will effectively establish an apartheid system of childcare, she insisted, and she called on Minister Brendan Smith to suspend the scheme until a process of consultation with community-based crèches has been carried out.