24 January 2008 Edition
Victory against anti-Irish racism in Scotland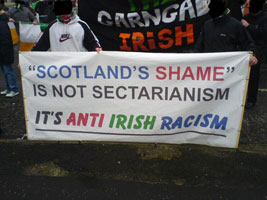 OVER 450 members and supporters of Irish solidarity group, Cáirde na hÉireann, took part in a protest march and rally in Kirkintilloch, Scotland, on Saturday, 12 January to  highlight anti-Irish racism within East Dumbartonshire Council (EDC).
The event was organised as a direct result of EDC imposing restrictions against Cáirde na hÉireann after an initial application for a march against anti-Irish racism within the Kirkintilloch area was heavily restricted.
Restrictions included no bands with the names of IRA Volunteers, no instruments or uniforms to be worn, and 70 per cent of the route to be reduced and rerouted away from the town centre to an industrial estate.
Cáirde na hÉireann refused to accept these restrictions and applied for a new march to take place on the platform of anti-Irish racism within the EDC. The original march and rally was organised after Krikintilloch residents approached Cáirde to highlight the continued vandalism of a plaque to commemorate the deaths of 10 Irish men and boys (the youngest being 13 years old), in a Kirkintilloch tea bothy 70 years ago.
These men and children died in dubious circumstances as a result of a blocked flue and fire in a tea bothy they where living in.
Saturday's march and rally was attended by Cáirde support groups from all over Scotland and as a mark of respect to the residents of Kirkintilloch the flute bands were withdrawn and band members attended the march in cumann jackets instead of uniforms.
The march assembled at Peel Park and led of peacefully and without incident to the monument site on the Lenzie Road where it was greeted by sustained applause from Kirkintilloch residents. Cáirde spokesperson Franny McAdam and the guest speaker, Limerick Sinn Féin's Tony Mooney, addressed the rally.
The crowd erupted in applause when it was announced that Cáirde will continue protesting in this area until they are satisfied that EDC recognises and actively works to tackle these issues.