24 January 2008 Edition
Allister challenged on Limavady attack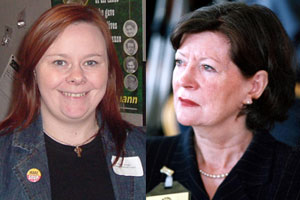 SINN FÉIN's leader on Limavady Borough Council Paddy Butcher has condemned an attack on two of his female colleagues after a meeting to discuss the implementation of a neutral public space motion which was adopted as policy last October. He laid the blame for the outrage at the door of Unionist MEP Jim Allister's local "loose cannon councillor" Leslie Cubitt.
"Throughout the debate Cubitt repeatedly made provocative and abusive statements which raised loud applause from a packed public gallery of his supporters. I eventually had to intervene and invoke Standing Orders which preclude the public from speaking or interfering with the debate to restore order. The meeting then had to go into recess on two occasions and was eventually abandoned", Cllr Butcher said.
Describing the incident as an attack on democracy Butcher said:
"Two of my colleagues Councillors Marion Donaghy and Anne Brolly were leaving the building when they were confronted by a mob of 70 thugs assaulted, insulted and spat at. Anne's car was damaged and a large Union flag was draped over her windscreen and they had to return to the building for safety.
Butcher said it was Councillor Cubbitt who  issued the rallying call for Unionists to appear at the meeting and called for a public response from MEP Jim Allister .