24 January 2008 Edition
Le Chéile - 'Together' honouring republicans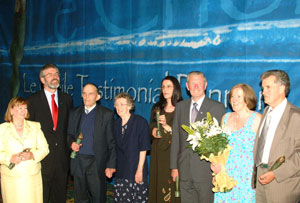 THIS YEAR'S Le Chéile dinner to honour republicans who have made an outstanding contribution to the struggle takes place at the Stillorgan Park Hotel in Dublin on Saturday 1 March, after the close of the Sinn Féin Ard Fheis.
The five honourees this year are: Brian Keenan (Cúige Uladh), Áine Ní Ghabhann (Cúige Laighean), Ella O'Dwyer (Cúige Mumhan), Kathleen Glavey (Cúige Connacht) and Jim Slaven (Idirnáisiunta).
The evening of celebration will include a full five-course meal, music and presentations.
The first Le Chéile took place in 2004. The idea of holding such an event emerged from the tradition of holding testimonial dinners during the 1980s and 1990s honouring republicans and raising much-needed funds for An Cumann Cabhrach.
Treasa Quinn, one of the organisers, said:
"While we commemorate our dead comrades it is also important to honour the living. Though it is a relatively formal event, it's basically about having fun and bringing people together. The very title 'Le Chéile', meaning 'Together', confirms that theme.
"It's an opportunity for people to come together and to mingle with the leadership figures and guests who will have been at the Ard Fheis that day."
Another organiser, Margaret Kelly, explained that the first Le Chéile was in 2004 and another in 2005 but was deferred in the following two years because of difficulties in timetabling and arranging such a prestigious event amidst heavy workloads. Although republicans' workloads haven't lessened, the popularity and success of Le Chéile resulted in such a demand that time had to be made this year for another gathering of the republican clans.
"There are just 350 tickets so we're urging people to get their tickets early to avoid being disappointed," Margaret added.
A testimonial brochure is being produced for the honourees in which friends and supporters can buy space to show their appreciation of their comrades' commitment to the cause.
Tickets are available by contacting either Treasa Quinn in Dublin 01 873 5546 or Margaret Kelly in Belfast at 09 235 333. People wishing to place advertisements in the brochure or book the limited rooms available at the hotel should also contact these numbers.