24 January 2008 Edition
Sinn Féin focus on employment black spots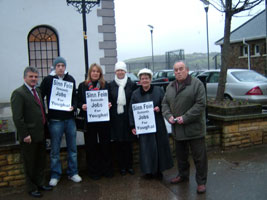 BY CAOILFHIONN NÍ DHONNABHÁIN  
THIS WEEK the Oireachtas Committee on Enterprise, Trade and Employment travelled to the South-East to assess what intervention is required to create new jobs in regional towns hit by recent  job losses.  The field trip was the result of a proposal made by a Sinn Féin member of the committee, Arthur Morgan TD.  Morgan has been kept informed by Sinn Féin representatives across the South-East of the extent of the problems regarding the failure to create new employment in towns in this region.
The fact that the committee was visiting the 'employment black spot' that is Cork East is a matter of some embarrassment to the Minister for Enterprise, Trade and Employment, Mícheál Martin, from the neighbouring constituency of Cork South Central, who has been in his brief since 2004, and for Michael Ahern, a TD for Cork East, who has been a Minister of State at the Department of Enterprise, Trade and Employment for the past six years.  
Arthur Morgan, keen to make a full assessment of the impediments to job creation in the region, had travelled to East Cork in December to meet with groups the committee may not get a chance to meet due to time limitations. During that visit he met with trade union representatives, community groups and chambers of commerce with whom he discussed what needs to be done to improve employment prospects in the region.
Speaking from Mallow on Tuesday of this week, Arthur Morgan said: "Over the last two days the committee has met with various business and enterprise contacts and also elected representatives in Thurles, Carrick on Suir, Dungarvan, Cappoquin, Youghal, Mallow and Mitchelstown. We've engaged with chambers of commerce, regional development bodies, county council management, the IDA, FÁS, trade unionists, and RAPID area co-ordinators."
The committee met Powerflow Electronics, Cappoquin Chickens, Munster Tool and Safety, Horgan's Delicatessen Supplies and visited the Amgen site.
Morgan went on to say:
"This week's fact-finding mission is about identifying the reasons for job losses and the failure to create new jobs in East Cork, Waterford and parts of Tipperary. If the work of this committee is to be of any real value we need to understand the challenges faced by the business and enterprise sectors so that we can formulate constructive proposals which the committee must then submit to Minister Mícheál Martin."
The Sinn Féin TD indicated to An Phoblacht that he would, in conjunction with local representatives in East Cork, Waterford and Tipperary, be putting forward specific proposals to include in the committee's submission to the Employment Minister.
Morgan said Sinn Féin would be pressing for a joined-up approach from Government and the enterprise development agency. Sinn Féin, he said, would be pushing for immediate steps to be taken to rectify infrastructural deficiencies that deter investment and impede enterprise development in regional towns.