24 January 2008 Edition
Stop family's deportation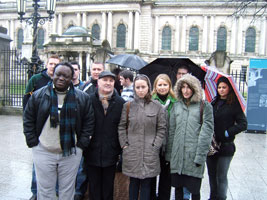 FRIENDS and supporters of a Nigerian family from East Belfast facing deportation in Britain have renewed their call to the British Government not to send Comfort Adefowoju and her four young children back to Nigeria.
The family, who fled from Nigeria after being threatened by paramilitaries, had lived in Belfast for over two years before being forcibly taken to a detention centre in England.
Comfort Adefowoju has already won two last-minute reprieves following widespread support from local people and politicians, both nationalist and unionist. On Monday, friends and supporters gathered outside Belfast City Hall, urging the British Home Office to reconsider its decision to deport the family.
Comfort Adefowoju and her children, the youngest only 10 months old, were taken to Heathrow Airport at 3.30am only to be told that the deportation could not take place because a flight ticket had not been purchased for the youngest child.
Sinn Féin MLA Alex Maskey criticised the "immense stress and trauma" inflicted on the family and their supporters.
"The British Home Office is playing cat and mouse with a lone mother and her very young children," he said. "It must stop and the only fair decision is to allow this family to return to Belfast and the support of their friends and neighbours."