24 January 2008 Edition
Executive agrees first budget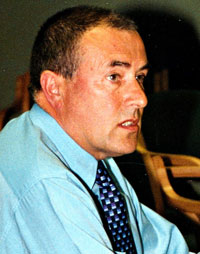 Sinn Féin drives extra funds for public services

BY NED COHEN

THE power-sharing Executive in the North, in which Sinn Féin and the DUP are the major partners, has this week agreed its first Budget, Programme for Government (PfG) and Investment Strategy (ISNI) with significant achievements in additional investment in key areas of social housing, health, education and youth provision as well as the Fire Service.
But amidst this progress, Sinn Féin insists that there remain major obstacles to the progressive development and delivery by the Executive of a new social economic and political reality. These include the fact that taxation and public expenditure policy are all set in London. The Union with Britain is damaging to the Six Counties. All the parties must address this and its implications.
Sinn Féin engaged in intensive discussions with the DUP about shaping the substance of the Budget, ISNI and PfG, including addressing the shortcomings of the various departmental allocations.
Sinn Féin Assembly members and ministers sought progress on issues relating to a number of departments – and not just Sinn Féin departments – including funding for mental health, the implementation of the Bamford Review of Mental Health and Learning Disability; investment in the Fire Service; capital expenditure for social and affordable housing; money in the education budget for youth services and early years childcare; and also arts funding.
In all of this, Sinn Féin has achieved considerable success. An additional £200 million has been allocated for housing, £30 million for health, and £13 million for youth services and early years childcare over three years. But again there is a limitation because this is, in essence, a debate about how we divide the cake – and as republicans our objective is to give communities a real say in the running of the bakery.
Finance spokesperson Mitchel McLaughlin said:
"We are confident that there will be progress in providing additional expenditure for children, health and housing. However, we still have major concerns about the reliance on the Public Finance Initiative and Public Private Partnership type of solutions and projections based of efficiency savings and realising assets."
Had Sinn Féin been able to gather more political strength or greater support from others within the Executive for our agenda, including our determination to tackle inequality, we would have been able to achieve more.  That said, the party is satisfied that many of the Sinn Féin concerns are addressed within the final draft Budget, PfG and ISNI.
The party focus has been keen to ensure progress on the equality agenda and particularly agreement that equality mechanisms, the Equality Impact Assessment (EQIA) process, will be used to determine future funding and policy decisions. This approach can have a significant impact on eliminating inequalities and tackling poverty and disadvantage. These are the processes we believe are essential in delivering, in turning equality into action.
Without significant progress across these areas, Sinn Féin would not and could not have agreed to the Budget, PfG and Investment Strategy.
The three Sinn Féin departments – Education, Agriculture and Rural Development, and Regional Development – have already completed separate equality consultation processes.  Now, following pressure from Sinn Féin, the Budget, Programme for Government and Investment Strategy will be subject to scrutiny against the equality criteria, as will each and every other department. The party is determined to hold all ministers to the requirement to deliver on equality.
 Significant progress has been secured by the party on the issue and agreement and acceptance that equality is a key issue for the Executive.
In particular, there has been agreement and acceptance by the other Executive parties (including the DUP) that "equality is an important issue for the Executive and for society. Inequalities exist, and we must strive to eliminate all forms of inequality... Economic growth and social progress cannot be taken forward in isolation from action to address poverty and disadvantage to build a fairer and more equitable society."
Across a number of specific areas there is progress in finding agreement that Sinn Féin should welcome: –
1. A rebalancing of the NIO agenda to ensure that a shared and better future for all is based upon equality, fairness, inclusion and the promotion of good relations as the watchwords for all policies and programmes across government.
2. The inclusion of a commitment to the social economy that was missing from the draft documents so that there is a recognition that part of developing our economy includes developing the social economy because such local economic activity promotes both social objectives and sustainable community development. The community and voluntary sector should not be underestimated. This requires investment in infrastructure, driving forward social transformation and environmental improvement and realising the potential of our arts and culture sector. 
3. Addressing poverty, disadvantage and exclusion will require co-ordinated action to support the most vulnerable and to create strong, vibrant, sustainable communities which enhance quality of life and which encourage everyone to realise their potential; a strategic delivery plan to ensure our anti-poverty strategy has maximum impact. 
4. Disability – Acknowledge-ment that people with a disability still face major barriers across all sections of society, particularly in securing access to education, employment, housing, healthcare, transport, etc, and these barriers must be removed.
5. The cross-departmental Gender Equality Strategy and work towards the total elimination of the gender pay gap.  In addition, effective programmes and strategies aimed at achieving the eradication of all forms of violence against women, and combat under-representation in political and public life and access to affordable quality childcare.
6. Regional Disparity  – Recognition by the Executive that the existing regional infrastructure disparities. We will work to address them and to ensure that we deliver a more balanced regional outcome, including within the out-workings of asset realisation (including commitments on the West Belfast and Greater Shankill Taskforce), for example at PSA level for 75 per cent of land acquisition (acres) in areas of economic disadvantage.
7. Using Procurement Policy  – Also at Public Service Agreement level to see departments produce annual procurement plans setting out how procurement will assist in the delivery of the most economically advantageous outcomes, including specific measures to assist in the delivery of PfG commitments and the full consideration of social procurement guidelines.
8. Equality into Action – There will now be an Equality Impact Assessment on the Programme for Government, Budget and Investment Strategy. This will be used to inform the delivery and review of the PfG, Budget and Investment Strategy over the next three years, including the redistribution of money through the in-year monitoring rounds.
There are also now serious implications for the Government in the 26 Counties. If resource allocation – the Budget, Investment Strategy and Programme for Government – can take into account the need to tackle inequality and disadvantage, through the formal equality mechanisms and outcomes of Equality Impact Assessment (EQIA) process in the DUP/Sinn Féin partnership in the Six Counties, why can we not get agreement on a similar standard applied in the government coalition in the 26 Counties?
Central has been Sinn Féin's determination that we do not just talk about equality but that we have measurable ways of seeing equality translated into action. Agreement to use, for example, the EQIAs as an integral part of developing policy and budgetary decisions represents a major achievement for the Executive.