17 January 2008 Edition
Ógra launch in Wexford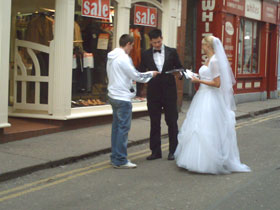 ÓGRA Shinn Féin's newest cumann met for the first time in the Daithí Forde Sinn Féin Centre in Wexford Town on Saturday, 12 January.
The meeting was attended by Sinn Féin Councillor John Dwyer, and Comhairle Ceantar Vice-Chair Mick  O'Leary. Following the meeting, the new cumann took to the streets of Wexford, disseminating literature about Ógra Shinn Féin in an effort to attract further members. The meeting was a success with the leaflet drop attracting a lot of attention among people in the town.
Speaking after the meeting, South Leinster co-ordinator Peadar de Bluit said he was very happy with the establishment of the new cumann.
"The presence of an Ógra cumann in Wexford will feed into the Sinn Féin structures here adding to the radical, activist outlook in the local area. As well as playing a key role in South Leinster Ógra, they can make a positive contribution to ongoing campaigns in the county."
Sinn Féin Councillor John Dwyer said he is very pleased with the establishment of the new Ógra cumann.
"In the near future the current Ógra members will make up the leadership of Sinn Féin in County Wexford. Ógra will provide a new dynamic to Sinn Féin in Wexford. Hopefully we can learn from each other and build Ógra structures across the county.
"A vibrant, active youth wing is important to Sinn Féin in Wexford and we will do all we can to aid their development in the future."