17 January 2008 Edition
Paul Donnelly to represent Sinn Féin on Fingal Council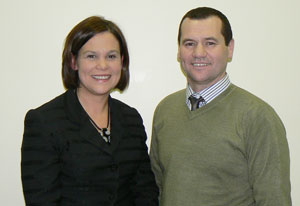 SINN FÉIN in Dublin West have selected local man Paul Donnelly as the party's new representative on Fingal County Council to replace outgoing councillor Felix Gallagher.
Donnelly was unanimously backed by local party members at a selection convention chaired by Dublin MEP and Sinn Féin Chairperson Mary Lou McDonald on Thursday, 10 January. The party's ruling Ard Chomhairle also approved the selection at their monthly meeting held in Dublin on Saturday, 12 January. Paul Donnelly will now seek co-option to Fingal County Council at its monthly meeting on Monday, 11 February.
Paul Donnelly, a republican of long standing, only narrowly missed election to Fingal County Council when he stood as the party's candidate for the Mulhuddart ward in the local elections of 1999. A seasoned political and community activist, Donnelly said he is looking  forward to taking on the role of councillor and thanked those present for their support. He said:
"I am honoured to have been selected to represent Sinn Féin on Fingal County Council.
"I'm up for the challenge and I look forward to meeting with the many community groups and leaders that  represent the everyday concerns of all the people of Dublin 15 in the weeks and months ahead.  I'd like to thank the local members of the party who have chosen me to represent Sinn Féin on Fingal County Council. I'm very conscious of the reputation I have to live up to in replacing outgoing Councillor Felix Gallagher and I'd like to take this opportunity to pay tribute to him for his work rate and service to our constituents."