17 January 2008 Edition
Orde stance on Omagh case 'unacceptable'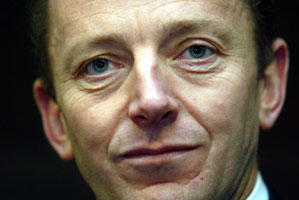 SINN FÉIN policing spokesperson Alex Maskey has said that Sinn Féin cannot accept the response of PSNI Chief Constable Hugh Orde to the judgement following the collapse of the Omagh trial involving Seán Hoey.
The South Belfast MLA said that after the trial ended with the damning indictment of the prosecution case by Justice Weir, who severely criticised police witnesses, Sinn Féin sought an urgent meeting of the Policing Board and a formal response from the Chief Constable. The meeting was held on Thursday, 3 July.
According to Maskey, Orde and two colleagues gave a presentation that was "little more than a re-run of the trial prosecution case" and did not accept any of Weir's criticisms. Orde said he would have no hesitation in putting the same case based on the same evidence forward again.
While Orde acknowledged that serious issues were raised about two named officers (Detective Sergeants Fiona Cooper and Philip Marshall), he said that he would await the outcome of the Police Ombudsman's Report.
Sinn Féin has proposed that the Policing Board carries out a complete review of the Omagh investigation from start to finish, including a review of all the reports which flowed from it.
The Board has also agreed to ask the judge to elaborate on his comment that others may have been involved in the statements episode.
"Fundamental questions were raised during the trial and by the judgement that must be addressed by the PSNI and the Forensic Science Service," Alex Maskey said.
"Sinn Féin is not just interested in the two named officers because it is our belief that more senior officers were involved. No matter what rank of officer was involved in wrong-doing, there can be no place for them in the PSNI.
"The issues raised by the role of PSNI officers in this case go to the heart of attempts to build a police service and justice system that is capable of delivering justice. When those who are charged with upholding the law break or bend the law, justice is the first casualty."