17 January 2008 Edition
Ahern should resign over poor health service, not dig-outs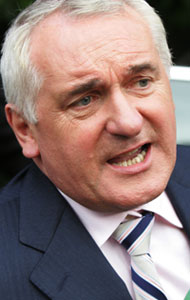 TAOISEACH Bertie Ahern should resign because he has presided over ten years of inequality and the poor health service, not because of 'dig-outs' from wealthy friends, Sinn Féin Dáil leader Caoimhghín Ó Caoláin TD said this week.
The Cavan/Monaghan TD was responding to calls by the leaders of Labour and Fine Gael for the resignation of Bertie Ahern over the ongoing Mahon Tribunal probe at Dublin Castle into his financial affairs.
Speaking on Monday, Ó Caoláin said that while the Taoiseach's "financial woes" are indeed serious, "they are minuscule in comparison to the deep inequality in Irish society Bertie Ahern has fostered since 1997".
All of our public services are in disarray due to years of minimal investment in the necessary critical infrastructure by successive Fianna Fáil-led governments, Deputy Ó Caoláin said.
"Unlike other European countries, Bertie Ahern has refused to link Ireland's GDP with public spending on key services such as health, education and public transport. Thus he has squandered the economic benefits of the last ten years, treating the public coffers as a cash cow to the detriment of the country's infrastructure, regional development, and medium to long-term economic viability."
And Ó Caoláin saved his most strident criticism for Ahern's overall responsibility for the decline of the health service.
"Our country's health service is run as an apartheid system despite Fianna Fáil's 2002 election manifesto commitment to bring about an end to the two-tiered health system they have maintained and fostered."
Even with the economic success story of the last ten years, Ó Caoláin said:
"We live in a country where private patients gain faster access to critical cancer services than public patients. For this reason alone, Bertie Ahern should resign his position as Taoiseach."