20 December 2007 Edition
Iníon Dubh - Forgotten heroine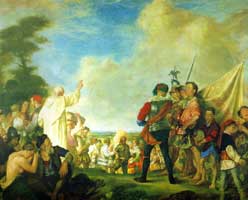 By Michelle Boyle
DURING 2007, the 400th anniversary of the Flight of the Earls, we have heard tales of times of brave and daring warriors and of an era which marked the end of an ancient Gaelic order. Hundreds of people have been involved in the debate on this historic event.
In the heat of the debate, Irish history often forgets the contribution of its women, preferring instead to airbrush them from memory. One such woman is Iníon Dubh, without whom we would be telling a very different tale of those glorious chieftains.
Iníon Dubh (Dark Daughter) was the nickname of Fionnghuala MacDonnell. She was the daughter of James MacDonnell, Lord of the Isles. His territory compromised parts of Antrim and some Irish and Scottish islands. As part of an ongoing feud between the MacDonnells and the O'Neills, James was killed by his rival chief in Ulster, Shane O'Neill. Iníon Dubh's mother, Agnes Campbell, then married Shane's successor, Thurlough Luineach O'Neill, and moved to County Tyrone.
Around the year 1570, Iníon Dubh married Aodh Dubh O'Donnell, known as The O'Donnell, Lord of Tyrconnell and the chief of the O'Donnell clan. Iníon brought to the marriage 1,000 Antrim-Scots soldiers. According to Brehon law, goods brought to the marriage by the bride remained her property and could be deployed when she chose.
Following her marriage it wasn't very long before Iníon Dubh was openly acknowledged as the 'head of advice and counsel' to her ageing husband. When The O'Donnell became senile, she controlled the territory and finances of Tyrconnell and also negotiated with the other chieftains, doing all this while she was raising four children, Red Hugh (Aodh Rua), Nuala, Rory and Cathbarr.
In 1587, Red Hugh, then 17, was captured and held hostage in Dublin Castle by Lord Deputy Sir John Perrot. Iníon spent her time trying to get him released as well as managing The O'Donnell's territory. One of her main concerns while Red Hugh was imprisoned was to defend his claim to the chieftaincy of The O'Donnell clan. And it was this task that was to earn Iníon Dubh's place in history.
In 1588 The O'Donnell's nephew and main rival for the chieftaincy, Hugh Gavelach O'Neill, attempted a coup to take the O'Donnell territory by force. Iníon Dubh had him killed by her faithful soldiers.
Two years later, her stepson, Domhnall Dubh (Black Donald), incited and bribed by the English, tried the same thing. While Red Hugh was cooling his heels in Dublin Castle, the Iníon Dubh led an army into battle near Kilcar   at Lug na Cnamh (The Hollow of the Bones) once again to defend her son Red Hugh's claim to the chieftainship.
A battle raged. In the end, Domhnall Dubh (Black Donald) was killed along with 200 of his followers, leaving the way clear for the succession of Red Hugh.
Red Hugh escaped Dublin Castle briefly in 1591 but was recaptured within days. On his return to captivity he was now under tighter security and his treatment was even harsher.
In January 1592, Red Hugh and the brothers Art and Shane O'Neill finally escaped with the help of an ally, who arranged for his escape into the Wicklow Mountains in the height of winter. They successfully reached the stronghold of another of O'Neill's allies at Glenmalure, County Wicklow, where he found refuge, but his companion and fellow escapee, Art O'Neill, died of exposure in the mountains. After a dangerous journey, Red Hugh succeeded in returning to Tyrconnell.
By 1592, Red Hugh was ready to take up his new role. His only remaining rival for the chieftaincy was Niall Garbh O'Donnell, his father's grand-nephew. Iníon Dubh, adamant on securing her son's place as chief, negotiated with Niall Garbh O'Donnell and struck a deal with him, giving him her only daughter, Nuala, in marriage. Iníon then persuaded her husband to abdicate in her son's favour and she finally saw her son inaugurated as The O'Donnell, chief of the clan.
Over the next nine years, Red Hugh O'Donnell joined forces with The O'Neill, Earl of Tyrone, and Ireland came closer to driving the English out than it ever had been before. But on Christmas Eve 1601, at Kinsale, County Cork, all was lost. The decisive battle was played out between the English forces, led by Lord Mountjoy, Charles Blount, the lord deputy of Ireland, and the Irish O'Donnell/O'Neill forces who were joined by the troops of their Spanish ally, Del Aguila. The chieftains' crushing defeat took three hours to accomplish. Some of the Spanish troops refused to come back to the battlefield; The O'Neill and his men became disorientated in the misty weather; and Niall Garbh, Iníon Dubh's son-in-law, went over to the English side. Shortly after the defeat, the Irish leaders were forced to flee to the Continent, ending any hope of overthrowing the English invaders.
By 1608, all of Iníon's sons were dead. In 1608, the treacherous Niall Garbh was to feel the full wrath of Iníon Dubh when he was sent to the Tower of London, accused of treason. Iníon Dubh had implicated him in a rising of the O'Doherty clan in County Derry. He died in prison 18 years later.
Iníon Dubh then retired to Kilmacrennan, once the heartland of the ancient O'Donnell territory, where she lived the rest of her life in peace and quiet. There are many different colourful versions surrounding this era of Irish history. However, there can be no doubt that if Iníon Dubh had not played the role she did in this chapter of history, then the story of Irish chieftaincy that we hear today would be a very different one.