20 December 2007 Edition
World leaders must redouble efforts on climate change - de Brún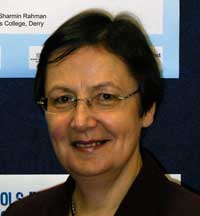 SINN FÉIN MEP Bairbre de Brún has welcomed the fact that a framework has been set out at the Bali climate conference on a future regime to combat climate change post-2012 but has expressed disappointment that more concrete targets were not agreed at this point.
De Brún, a member of the European Parliament's Temporary Committee on Climate Change, said:
"It is disappointing that world leaders were not able to reach agreement on set targets at Bali given the scale of the challenge facing us all. However, I welcome the fact that a framework has been set out in which such agreement can be reached involving, for the first time, all the major world actors."
The Sinn Féin MEP said that world leaders must redouble their efforts and reach agreement on the detail of the future regime by 2009 at the latest. The earlier such agreement can be reached the better for all. A future regime should build on the key principles and mechanisms of the UNFCC and the Kyoto Protocol and include binding targets for all industrialised countries and broader participation in reduction efforts particularly by emerging economies through fair and proportionate targets.
She continued:
"We also need a major increase in aid to those countries that will be hardest hit and least able to adapt their economies to climate change. The World Bank estimates that $10-14 billion will be needed annually to 'climate proof' development in the world's poorest countries. Contributions to dedicated funds for adaptation proposed at this stage, however, only amount to between $150-300 million."