20 December 2007 Edition
Power lines - 'Repeal flawed planning Bill' - Ó Caoláin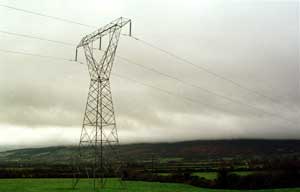 As controversy and community opposition to proposed new overhead power-lines grows, Sinn Féin Cavan-Monaghan TD Caoimhghín Ó Caoláin has challenged Environment Minister John Gormley on his "double standards" on key planning legislation which facilitates major projects with minimal community consultation.
Pointing out that the Planning and Development (Strategic Infrastructure) Act facilitates the forcing through of such projects, Ó Caoláin said that when in Opposition, Minister John Gormley, had strongly opposed the Bill.
Describing as "double-standards" the Minister's implementation of the same legislation now, Ó Caoláin said its repeal was needed if unacceptable developments were not to be forced on communities. He secured a Dáil adjournment debate on the issues.
"This legislation allows major infrastructural projects to bypass the planning process, denies citizens and communities their right to give effect to their objections and fast-tracks approval through the strategic infrastructure division of An Bord Pleanála. Incinerators, thermal power stations, landfill sites, oil and gas pipelines and installations, motorway routes, electricity power line link-ups and much more besides are facilitated by the legislation. It is the latter, the electricity power line link-ups, that has prompted our return to the legislation in question. EirGrid has now publicly indicated its intent to put in place a North-South inter-connector from Counties Tyrone and Armagh and through County Monaghan and into County Cavan. It has a second power line proposal between Counties Meath and Cavan.
"It would appear that despite the clearly expressed opposition of thousands of families who live in close proximity to the proposed routes of these power lines and their support pylons, EirGrid remains fixed on its overhead approach to these projects. The same can be said of NIE, Northern Ireland Electricity, which is jointly on board with EirGrid in the first of the two projects signalled", Ó Caoláin said.
Pointing to the widespread opposition to the overhead power lines in Counties Cavan, Monaghan, Meath and Armagh, the Cavan/Monaghan TD said there was a need to restore access to the proper planning process.
"We need to ensure there is compliance by all who wish to see major projects undertaken. We need to ensure that communities and citizens have the right to engage as objectors in the normal course. I appeal to the Minister and to the Government to take on board this Deputy's concerns, concerns reflected by colleagues of his own and of all opinion represented in this House. It is now time for action and to properly and responsibly revisit this legislation", he said.