20 December 2007 Edition
Economic progress requires all-Ireland approach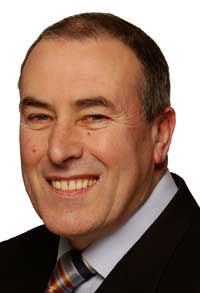 THE British Government has rejected calls to bring the North's corporation tax rate into line with that of the 26 Counties.
In his report to the British Treasury this week, commissioned by the British Government, Sir David Varney, formerly head of Westminster's Revenue & Customs, said that "implementing a different corporation tax rate for Northern Ireland, as compared to the rest of the UK, does not offer the best way forward for building a strong investment strategy for Northern Ireland".
In March, Varney was asked by then British Chancellor Gordon Brown to conduct a review looking at how tax policy might support economic growth in the Six Counties.
Sir George Quigley, former chairman of the Ulster Bank, expressed his disappointment at the Varney Report. He said: "The person leading [this review] was closely associated with the Treasury and his team was stuffed with Treasury officials."
Sinn Féin Economy spokesperson and South Antrim MLA Mitchel McLaughlin said:
"We are disappointed but not surprised at the lack of vision contained in the Varney Report. It falls far short of what is required and fails to deliver the kind of economic tools needed.
"The British Exchequer's focus is only on policies that will favour the economy of the island of Britain. Our needs are treated as an afterthought.
"The Executive is hamstrung by the British Treasury. Short of economic and political independence from London, we are reduced to making the most of the limited options at our disposal.
"I believe that economic and social progress can only be delivered in an all-Ireland context.
"It is essential that we now build on the limited measures on offer and develop a collective response that includes maximising our fiscal and financial independence and addressing key issues such as tax-varying powers for the Executive."