20 December 2007 Edition
History made as Sinn Féin takes Chair of Monaghan VEC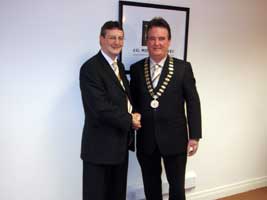 COUNCILLOR Pat Treanor has become the first Sinn Féin cathaoirleach of a Vocational Education Committee (VEC) when he was unanimously elected into that position in Monaghan this week.
Treanor, who represents the Clones electoral area on Monaghan County Council, was proposed by Sinn Féin Councillor Matt Carthy and seconded by Councillor Jackie Crowe. Fianna Fáil's Deireadh Kelly was elected leas-cathaoirleach.
After his election, Pat Treanor made a wide-ranging speech to his fellow VEC members in which emphasised the importance of school enrolment, student retention and adult education.
He said the roll-out of the Youthreach service has been one of the positive developments in recent years has.
The building at Castleblayney College was an immediate priority for the committee and he said he looked forward to making progress on a new theatre for the county and getting a permanent site for an Outdoor Education Centre.
Treanor said that one of the most pleasing developments in education over the past number of decades has been the expansion of the Gaelscoil sector. Led primarily by local communities, County Monaghan VEC has been part of this positive trend with the opening of a second-level Irish-language school, Colaiste Oiriall.
Pat Treanor said:
"I hope that this school will be granted permanent status without delay and that we can identify a site for a new colaiste, possibly and preferably as part of an Irish-language campus," Treanor said.
The Sinn Féin councillor said he is proud to be elected cathaoirleach and especially proud to be the first Sinn Féin member to hold this position in the history of the body.
"I want to thank my party colleagues for their endorsement. I will endeavour to represent and lead this committee in an impartial, fair and equitable manner at all times."