20 December 2007 Edition
Remember republican prisoners this Christmas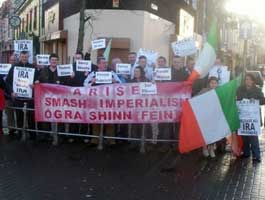 BY ART Mac EOIN
For republicans, December is traditionally prisoners' month. Unfortunately this year is no different as there are republicans languishing in three septate jails across Ireland.
Speaking to An Phoblacht this week Ann O'Sullivan, of the Sinn Féin POW Department said that following the IRA's declaration of an end to its armed campaign all IRA prisoners should have been released but that instead, almost a decade after the Good Friday Agreement, and over two-and-a-half years since the formal ending of the IRA campaign, republican prisoners remained in jail.  She said that their continued incarceration was the result of a lack of political will, especially by the Dublin government, and that this should be challenged.
O'Sullivan welcomed a recent call from Barry McColgan of Ógra Shinn Féin in which he urged Ógra members to be particularly active on the prisoners issue during the month of December and to remember those republican prisoners who are still held in jail this Christmas.
"I would ask that people remember and highlight the oppression of prisoners across the world and in particular to remember Irish republican POWs, held not only in Castlerea, but also Portlaoise Prison in County Laois and Maghaberry Prison in County Antrim", O'Sullivan said.