20 December 2007 Edition
Save St Luke's cancer services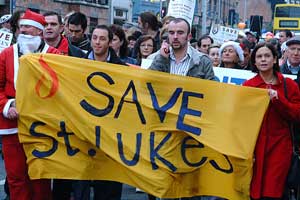 SPEAKING at a 'Save St Luke's Hospital' rally in Dublin last weekend, Mary Lou McDonald MEP has urged people to intensify the campaign to protect cancer services from Government cuts.
 The Dublin MEP said that the Rathgar hospital has the sort of excellent reputation that made it possible for the Friends of St Luke's to raise €22 million.
"Any sensible administration with a modicum of sense and compassion understands that a consistency of care in a fully-resourced environment is critical to a cancer patient and their family," Mary Lou said.
"There has been minimal consultation with the staff and patients on its proposed closure which is all the more aggravated by the Department of Health's plan to move the hospitals services to St James's and Beaumont as part of the Government's co-location plans."
The MEP said that the Government has had resources undreamed of by any previous administrations yet it presides over chaotic and inequitable health services.
"They have failed to meet the needs of the people at national, regional and local level. We now have a two-tier, disorganised, disjointed and ailing health service. And this Government's main so-called solution is privatisation."
Mary Lou McDonald said she refutes claims by Health Minister Mary Harney and Health Service Executive chief Brendan Drumm that communities are opposed to centres of excellence.
"What has been said, and rightly said, is that existing cancer services cannot and must not be taken away in the absence of centres of excellence. That is what this government and the HSE are trying to do.
"St Luke's Hospital is evidence of this disastrous policy. St Luke's delivers key cancer care services and should be supported and facilitated by the Government in getting on with its work."