20 December 2007 Edition
Job Creation tops agenda as Morgan visits East Cork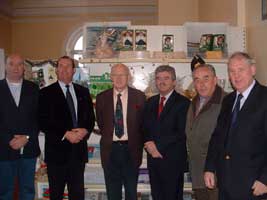 BY JOANNE SPAIN
Sinn Féin's spokesperson on Enterprise, Trade and Employment Arthur Morgan TD visited the East Cork Region on Friday, 14 December. Morgan's visit came after the failure of the Government to create new jobs in the region was brought to his attention by local councillors. According to the TD, the purpose of his visit was "to assess what needs to be done to create new jobs in regional towns which have been hit by a recent state of job losses".
What is most staggering about the failure of the Government to ensure replacement jobs in East Cork is the fact that it has had a junior minister, Michael Ahern, at the Department of Enterprise, Trade and Employment since 2002 while the current Minister for Enterprise, Trade and Employment Mícheál Martin comes from a neighbouring constituency.
Job creation is a priority for Sinn Féin and Morgan, as Sinn Féin's Dáil spokesperson on the issue, has got the agreement of the Committee on Enterprise, Trade and Employment to visit the East Cork and Waterford area in January to assess the job situation there which has been described as an 'economic blackspot'. Arthur Morgan described his visit on Friday as a fact finding trip.
"In advance of the visit by the Committee on Enterprise, Trade and Employment I wanted to go down to area myself to meet with groups with whom the Committee may not get a chance to meet.
"I wanted to hear the views of those in the area, including business people and workers, on how  the state agencies can assist better in creating new jobs in this area, what the factors inhibiting the creation of new jobs are, if infrastructure is adequate, if workers have the required skills, if enough is being done to support local entrepreneurs", he said.
Over the last six years, the East Cork area has lost thousands of jobs in towns like Mallow (Irish Sugar, Nestlé and Dairygold), Mitchelstown (Dairygold), Fermoy (FCI), Cobh (Irish Steel and IFI), Youghal (Couristan Carpets, Technicolor Home Entertainment, Artesyn Technologies and Elba Labs), and Carrigtwohill (Youghal Carpets). Last October, biotechnology firm Amgen postponed indefinitely an €800 million plant planned for Carrigtwohill. The plant, which was initially due to open in 2010, had been expected to employ up to 1,100 people.
Youghal
The Sinn Féin TD spent the first part of the day in Youghal with local Sinn Féin Councillor Martin Hallinan, where he met SIPTU Branch Chair Warren Daly and Branch Secretary James Daly.
They said they feared the town has been actively ignored for development.  "We have ports here and facilities lying empty and ready," James Daly said. "But we have been crying out for a light rail system and proper signage. The government seems content to let Youghal be a commuter town, with thousands leaving every morning for work in places as far away as Limerick. It's no way to live."  James Daly also highlighted the problem of council rates, saying a well-known restaurant chain had wanted to come to the community but had been handed a rates bill for €60,000 before it even had planning permission.  The SIPTU representatives said the only investment Youghal, a tourist town, had over the   last number of years has been a sludge plant.
Morgan also met with community groups in Youghal.
Cobh
In Cobh, Arthur Morgan and local Sinn Féin Councillor Kieran McCarthy met with the local Chamber of Commerce.  President Joe Mac Coitir highlighted the failure of the Government to identify the cultural significance and tourism potential of the town.   Morgan discussed with Chamber the pressures on small businesses and how can government help to alleviate these pressures and sought their views on what additional supports were needed by small and medium sized enterprises in the area in order to expand their workforce. The Chamber of Commerce also pointed to the lack of infrastructure and high council rates as impediments when it came to attracting new industry and developing indigenous sources of employment.   
At Cobh City Hall, the Dáil deputy received a warm welcome from Mayor Paddy Whitty, Town Clerk Padraig Lynch and Independent Councillor Paddy Histon. They presented him with a book of historical information and photos of Cobh harbour.   The Mayor said the town has huge potential and welcomed the fact that Arthur Morgan was taking time to visit to area and was adding his voice to calls for proper investment and infrastructure.  
Throughout the trip, Deputy Morgan highlighted Sinn Féin's job creation proposals, including the need for investment in transport and telecommunications infrastructural and upskilling of workers in order to increase competitiveness, and also the need for a new focused approach to developing smaller indigenous enterprises.