20 December 2007 Edition
Government uses emergency bill to rubber-stamp co-location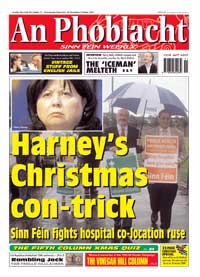 BY MICHEÁL MacDONNCHA
THE Fianna Fáil/PD/Green Party Government rushed a Bill through the Dáil this week ostensibly to plug a legal loophole but to give legal backing to the notorious private for-profit hospital co-location plan.
It has emerged that the Attorney General advised the Government that 19 health bodies set up since 1961 are on shaky legal ground and open to constitutional challenge. The Bill is supposedly to protect them but is being used as a Trojan horse for co-location.
Speaking on Tuesday night in the Dáil on the Health (Miscellaneous Provisions) Bill 2007, Sinn Féin Health spokesperson Caoimhghín Ó Caoláin said that Sinn Féin could not support the Bill unless the Government removed the sections which are designed to facilitate the Government's co-location plan.
Deputy Ó Caoláin said:
 "The Opposition has sought access to the Health Minister's legal advice. The Attorney General states in a letter that the advice is privileged and should not be released. Whilst we must allow the Government some leeway to protect the 19 existing bodies established under the 1961 Act, the unanswered questions do need to be addressed.
"The other major element of this Bill cannot and will not be supported by Sinn Féin. That is the extension of the powers to the boards of St James's and Beaumont hospitals in order to facilitate the Government's infamous private for-profit hospital co-location plan."
The Sinn Féin TD reminded the House that, in June of this year, Protestant and Catholic organisations – the Adelaide Hospital Society and the Jesuit Centre for Faith and Justice – joined forces to warn against the trend in healthcare policy that co-location represents. They said it "sends out a powerful message about Government backing and support for the existing two-tier hospital system" and that it "represents a significant threat to the fundamental values of care and justice, which require that health provision is seen first and foremost as an essential service, which should be available on the basis of need".
Caoimhghín Ó Caoláin continued:
"A government which sponsors such a scheme can never be relied upon to deal with the underlying inequalities which contribute significantly to ill-health in our society.
"We need 3,000 additional hospital beds to replace beds taken out of the system in the 1980s and to cater for the 25 per cent population increase since then. This Government claims that it will increase bed numbers by 1,500 – but no less than 1,000 of these are supposed to come from the co-location scheme facilitated by this Bill.
"Minister Harney claims that 1,000 private beds will be transferred from public hospitals to the private co-located hospitals, thus 'freeing up' that number of public beds. But she has never answered my Dáil Question on how many beds will be transferred at each hospital site."
The Sinn Féin TD said that the reality is that co-location cannot provide the additional beds required. He referred deputies from the Government parties, particularly the Green Party, the statement from the Doctors' Alliance for Better Public Healthcare which said:
"In general, private medicine does not provide emergency or urgent care which makes up the overwhelming majority of cases treated as in-patients in public hospitals... Most patients admitted as in-patients to public hospitals are not suitable for care in a private hospital, including most patients admitted via A&E. That is why there are patients with top-level health insurance on trolleys in public A&E departments while there are beds empty in nearby private facilities."
Caoimhghín Ó Caoláin added:
"The Government has signalled its refusal to remove the sections it has inserted in this Bill which are designed to facilitate co-location. The Bill proposes to amend ministerial orders and give them legislative force. This will mean giving powers to the boards of St James's and Beaumont to proceed with co-location. Therefore Sinn Féin cannot support the Bill."