13 December 2007 Edition
WRITE BACK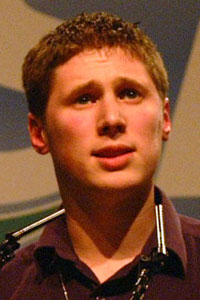 By Monaghan County Councillor Matt Carthy
Planning: We put communities first
IF I was dependent on the RTÉ Prime Time programme on land rezoning to inform me of the development plan process in County Monaghan then I, like Seán Brosnan (Mála Poist, 6 December), would probably be confused and disappointed.
The inference in the programme was that Sinn Féin councillors simply zoned land without rationale and in the sole interests of landowners and developers. This is simply not the case.
I am also pleased to inform republicans that the position of Sinn Féin councillors on Monaghan County Council was not in conflict with that of our colleagues in Kerry, Tipperary or any other county in the state.
Our position throughout the entire development plan process (which incidentally lasted over two years) was that the process itself is fundamentally flawed and must be radically changed by government. It was a position I articulated during a Prime Time interview which lasted over an hour but only of which about 30 seconds was seen by viewers and formed the basis of last week's letter.
However, unlike the agenda of the Prime Time team and others like Environment Minister John Gormley, we don't believe that the answer is to simply remove power from councillors and place it in the hands of unelected planners. Instead, we want to see a real say for communities affected by decisions in development plans.
It was with this in mind that the Sinn Féin Councillors in County Monaghan invested huge amounts of time discussing all aspects of the development plan with local communities.
We used our political strength in County Monaghan (Sinn Féin holds 7 of the 20 seats on Monaghan County Council) to ensure that not only could community groups make proposals and suggestions but that their input actually made it into the text of the plan itself.
The real success of Sinn Féin in County Monaghan lay in policies we introduced and supported.
These policies include provisions that make it incumbent on any developer to engage with local communities prior to building.
They must first provide the necessary water and waste water facilities so the problems witnessed in many towns cannot be repeated. In villages, builders must provide footpaths and lighting into the centre of the village. For any housing development over 40 houses, they must provide play-parks and other recreational facilities (the figure is at least 75 in almost every other county).
We also introduced policies strengthening Irish-language provisions, ensuring access to all services for people with disabilities, and providing for childcare facilities in rural communities.
Sinn Féin also proposed amendments to the development plan which included, for example, the sterilisation of land for the future development of a rail network through the county and the rejection of incineration as a waste management option. Unfortunately, these and other progressive measures were rejected by Fianna Fáil and Fine Gael.
To set the record straight, I should point out that Sinn Féin councillors actually voted against the rezoning of development land in many of the villages in the county.
In others we did support the rezoning proposals.  This was not at the behest of landowners or developers but rather at the urging of the communities involved.  Many of the villages in question have seen huge population decline over many decades. Schools fear for their future and people cannot purchase as much as a pint of milk. These villages are crying out for development to pump life back into their communities.  We acted accordingly and while it may be easy for Dublin-based politicians and media to finger-point the reality on the ground is that you simply cannot compare the situation in these border areas with what has happened in the wider Dublin commuter belt or in coastal areas.
The areas where there is potential for the type of development that has blighted other counties are in the very south of our county.  Here Sinn Féin advocated (and in most cases won the argument for) the curtailment of zoned land.
One of our more picturesque villages is Inniskeen ('Patrick Kavanagh Country'), which has already experienced some development.
Inniskeen saw the most comprehensive public consultation debate that any village in this state has witnessed.  An organised community held public meetings, went door to door and prepared an excellent submission to the council about the level of development that they wished to see. For some reason, the planners and executive in Monaghan County Council argued strongly that a large portion of land on the periphery of the village be included in the zoned area against the wishes of the people.  They were supported in this by Fianna Fáil and the Green Party.  Thankfully, Sinn Féin's strength on the council ensured that the community's wishes were upheld and the land was removed.
I extend an invitation to Seán Brosnan or any other reader to come to Monaghan where I will be happy to bring them to the villages and communities involved.  Then make your judgement based on all the information.  Unfortunately, John Gormley has failed to do so. He has refused to meet with councillors or communities from the county or to be interviewed by our local media on the subject. This is the man who once purported to be in favour of strengthening local democracy.  I believe he has been exposed as a hypocrite.
For our part, in County Monaghan Sinn Féin we will always work with our local communities when developing policies on planning or any other matter.  Their views will always be our primary guidance. We make no apologies for that.

An Phoblacht Magazine
AN PHOBLACHT MAGAZINE:
Don't miss your chance to get the second edition of the 2019 magazine, published to coincide with Easter Week
This special edition which focuses on Irish Unity, features articles by Pearse Doherty, Dr Thomas Paul and Martina Anderson.
Pearse sets out the argument for an United Ireland Economy whilst Pat Sheehan makes the case for a universally free all-island health service.
Other articles include, 'Ceist teanga in Éirinn Aontaithe', 'Getting to a new Ireland' and 'Ireland 1918-22: The people's revolution'.