6 December 2007 Edition
Dublin City Council passes Sinn Féin motion against domestic violence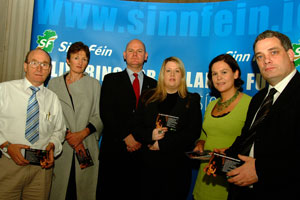 BY MIRIAM MURPHY

Dublin City Sinn Féin Councillors tabled an emergency motion to the December meeting of Dublin City Council last Monday to mark the international 16 Days of Action Against Violence Against Women.
The motion, which called for the use of unsuitable private B&Bs to be phased out and a sufficient quantity of emergency refuge accommodation to be brought online, was passed unanimously with all-party support.
Ballyfermot Cllr Louise Minihan said: "A great number of factors contribute to women and men staying in abusive relationships. One of the barriers to victims of domestic violence freeing themselves from their current situation is, without doubt, the shortage of safe and affordable accommodation.  It is essential that all factors, once identified, are rectified."
Councillor Minihan explained that the figures demonstrate the acute shortage of emergency refuge spaces.  In 2004, almost 2,000 women and children accessed emergency accommodation in the Eastern region.  1,144 were turned away due to the lack of spaces.  That's over 50 per cent turned away.
Since 2003, according to figures provided by the Minister to Sinn Féin TD Aengus Ó Snodaigh, Section 10 spending by the Department of the Environment, Heritage and Local Government on refuge accommodation has increased by less than 5 per cent.  That's below the rate of inflation which means that in real terms spending has decreased. She concluded, sadly: "We can assume that the number of victims of domestic violence has risen over the same period in parallel with the significant population increase.  The only conclusion that can be drawn from these figures is that the situation is worsening."
Local authorities have responsibility for the provision of housing to households who are unable to provide accommodation from their own resources, and this can include victims of domestic violence.  The shortage of purpose-run emergency refuges and supported transitional accommodation means many victims are forced to rely on homeless shelters and private B&Bs which are unsuited to their needs.
Last Friday, in advance of Monday's meeting, Dublin Sinn Féin councillors, its TD and MEP also came together in City Hall to launch an information card with Sinn Féin's priority demands for tackling domestic violence and contact details for the Women's Aid confidential helpline and a number of emergency refuges.  The card will be printed and distributed shortly.
Women's Aid Confidential
Help-line: 1800 341 900