6 December 2007 Edition
Navan hospital protestors told to 'Keep up the pressure'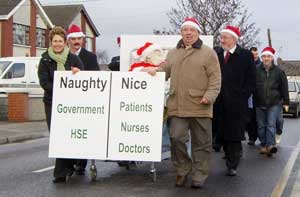 Speaking at a protest in Navan, County Meath on Saturday last, Sinn Féin Dáil leader and Health & Children spokesperson Caoimhghín Ó Caoláin said that the general public had an important role to play in ensuring better health services through maintaining pressure on the Government and on higher management of the Health Service Executive.
The Sinn Féin protest was against the decision of the HSE to close the Regional Orthopaedic Unit at Our Lady's Hospital, Navan, for three weeks in December. Deputy Ó Caoláin said:
"People in the North-East region – Cavan, Monaghan, Louth and Meath – are being denied orthopaedic care because of the disgraceful decision of the HSE to close the Orthopaedic Centre at Our Lady's Hospital, Navan for three weeks in December.
"Health Minister Mary Harney and the HSE chief, Professor Brendan Drumm, told us that HSE cutbacks would not affect patient care. They should tell that now to the 430 public patients on the waiting list for orthopaedic care in this region. The cutbacks here and throughout the state belie the claims of Minister Harney and CEO Drumm.
"Protests like this are needed because public pressure does work. The original decision of the HSE was to close the unit for the entire month of December but when this was strongly opposed and the penny-pinching approach of the HSE was exposed by my colleague, Councillor Joe Reilly, the HSE relented and decided to reopen the unit for the first week in December and to complete 30 operations.
"This week, Fianna Fáil TDs had an opportunity to show how sincere they really are when they tell their constituents they are concerned about the crisis in our healthcare system. Since Mary Harney was appointed Minister for Health & Children many of these TDs and their party colleagues at local government level have sought to shift full responsibility for the crisis onto the PD minister. Yet all of these TDs trooped into the Dáil last week to vote confidence in Mary Harney as Health Minister. They have exposed once again that Fianna Fáil in government bears full responsibility for the shambles in our health services."