6 December 2007 Edition
Major Sinn Féin conference in Dublin this weekend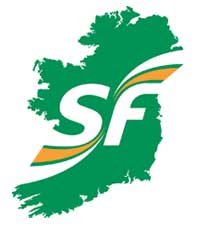 Sinn Féin is holding a major public conference, Engaging Modern Ireland, on Sunday, 9 December, in Griffith College Dublin.  The conference follows intensive consultations within the party in the aftermath of the general election to agree on Sinn Féin's priorities for the coming years. Several key issues including economic development, community safety and policing, climate change and 'New Irish, New Communities' will be discussed. Each section will feature a number of special speakers and party delegates will also participate in the debate.
The conference will be addressed by senior party representatives from the 26 Counties, including Caoimhghín Ó Caoláin TD, Dublin MEP Mary Lou McDonald and Senator Pearse Doherty. The keynote address by party President Gerry Adams will outline the way forward for republicans.
De Brún plays key role at conference on EU, Turkey and the Kurds
Sinn Féin MEP Bairbre de Brún has been playing a key role at the Fourth International Conference on EU, Turkey and the Kurds.
De Brún will act as a moderator at the Brussels conference which is dedicated to the memory of the Kurdish Writer Mehmet Uzun and organised by the EU Turkish Civic Committee (EUTCC).

The EU Turkish Civic Committee was established  to monitor and conduct regular audits of the European Commission's performance in ensuring Turkey's full compliance with the accession criteria as defined within the meaning of the accession agreements. Patrons include professor and writer Noam Chomsky and Archbishop Desmond Tutu.
Speaking on Tuesday in advance of the conference, de Brún said:
"I am pleased to be assisting with today's conference in my role as moderator for the session dealing with the ongoing conflict in Turkey and the accession process. Exploring the international context in terms of political development in Turkey in relation to regional and global conflict, we will also be looking at the need for democratic participation, political representation and the role of civil actors. We will also look at the applicability of humanitarian law to the current conflict between Turkey and the PKK.
"Today's conference will assist with the process of improving support for the peace process in the region. There are clear roles to be played by the European Union, European governments and NGOs."

Engaging Modern Ireland 
Sinn Féin Conference
Griffith College, South Circular Road, Dublin
Sunday 9 December 2007
10am    Registration
11am    Opening address by Senator Pearse Doherty
11.10am    Building the economy
    Liam Nelis - Chief Executive Intertrade Ireland, Michael Halpenny - SIPTU National Industrial Secretary and Arthur Morgan TD
12.20am    Climate Change and the environment
    Dr. Rowan Fealy - senior researcher with the Irish Climate Analysis and Research Unit and Bairbre de Brún MEP

1.15-2pm    Lunch

2-3pm    Community safety and policing
    Al Hutchinson - Policing Ombudsman in the Six Counties and Aengus Ó Snodaigh TD and Martin Ferris TD
3-4pm    New Irish, new communities
    Salome Mbugua - Chairperson of AkiDwA - African Women's Network, Kazik Anhalt - SIPTU's Polish Organiser and Mary Lou McDonald MEP
4pm    Tackling the crisis in healthcare provision
    Caoimhghín Ó Caoláin TD
4.15pm    Keynote address by Gerry Adams