6 December 2007 Edition
INTERVIEW: Sinn Féin Dáil leader speaks ahead of major conference, 'Engaging Modern Ireland'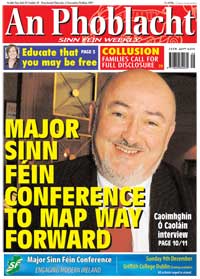 Advancing the struggle — the next phase
AS Sinn Féin prepares for a major public conference in Dublin this Sunday about the way forward, Sinn Féin Dáil Group Leader Caoimhghín Ó Caoláin tells ELLA O'DWYER that republicans are more determined than ever to reassert their place on the political landscape, grow stronger and build an all-Ireland republic.
THERE'S no denying that Sinn Féin had a disappointing election in the 26 Counties but, for a party used to winning elections, the outcome made activists sit up and look at what happened, in terms of campaigning, profile and presence on the ground, policy presentation and organisation. This weekend's conference follows a series of party meetings throughout the country where 'frank discussions' were not only encouraged but required if Sinn Féin is going to reassert itself and grow, Caoimhghín Ó Caoláin says.
"That consultation process post-election was hugely important. The policing debate was seismic in terms of changes to the traditional party position but the process that we have gone through for the three to four months over the summer throughout the 26 Counties was essential to rebuilding republicanism."
The loss of Seán Crowe's seat in Dublin South-West was keenly felt and the causes have to be addressed, Caoimhghín admits, but that has naturally overshadowed the good stuff.
 "We had some tremendous results around the country and nowhere was this better demonstrated that in Donegal North-East and Donegal South-West. Great credit is due to Pearse Doherty and Pádraig Mac Lochlainn for the tremendous votes they recorded. I also want to acknowledge the huge effort of my own significant councillors' team and local activists in gaining an all-time high vote for Sinn Féin in Cavan/Monaghan – the sixth highest vote in the entire election. Aengus Ó Snodaigh, Martin Ferris and Arthur Morgan all fought tough battles and held their seats and I'm sure that Seán Crowe will be back."
The election result did have an impact on Sinn Féin's Dáil speaking rights. This was going to happen anyway with the Green Party throwing in its lot with Fianna Fáil and the PDs,  taking away the basis of the Technical Group that Sinn Féin was part of and which met Dáil regulations for having seven members and the speaking rights that went with it. After the election,  Sinn Féin had four TDs and there is just one Independent TD not aligned to the Government (Tony Gregory). But instead of crying over spilt milk, Sinn Féin has sought to maximise its political opportunities in the Oireachtas by negotiating a reciprocal arrangement with the Labour Party that saw not just Pearse Doherty elected to the Seanad but that defended republicans' speaking rights.
And Caoimhghín is adamant that Sinn Féin's negotiating team got a good deal:
"We gained more than a single reciprocation for Labour voting for Pearse Doherty. We gained speaking time that we wouldn't otherwise have had in the new Dáil as a result of this arrangement. Labour signed up to an agreement to secure us access to speaking opportunities on motions that would be tabled by the Government or the Opposition and that agreement has been honoured on both sides."
On the conclusions reached by the hugely intensive period of internal party consultation Ó Caoláin says:
"Out of the analyses and feedback from party members I believe that we are setting the direction for our party – in the 26 Counties in particular – for the coming years.

"I believe that while there are major challenges ahead, we see that we need to build the party; we need to widen our appeal and increase support for our political objectives. Each of the TDs play a direct role in the national leadership of the party, as do Pearse Doherty and MEP Mary Lou McDonald. They are not a 26-County leadership – I don't think that's what we need. What we need is a 32-County national leadership and those faces, with others – our MPs, MLAs, will play an ever-increasing role in the development of the party and it's got to be a national, collective, 32-County leadership because the impact we have to make is not confined to our individual constituencies – the Six Counties or the Southern state. We're Irish republicans and our commitment is to an all-Ireland context.  It's a collective leadership  from throughout the island of Ireland.
"Outside the Oireachtas, Sinn Féin members have been putting in the work behind the scenes to get the party back on a firm footing to fight not just an EU Treaty referendum in 2008 and local elections in 2009 but a European election and grassroots campaigns on issues such as health, education, childcare, public transport, the environment, quality of life, community safety and the economy.
"Developing Sinn Féin's economic position means looking to the needs of wider society and sectors within society about issues around economic development, including some sections we have not addressed properly before now.
"We have given scant attention in the past to enterprise and small businesses, the promotion of job creation, job sustainability and sustaining the efforts of indigenous investors. We have to look at that and how we are going to deal with issues affecting these areas, their workforces and the communities they are part of."
The Cavan/Monaghan TD, with one of the biggest Sinn Féin local authority bases in the country, says that part of the fight-back is to win more people over and get them joining Sinn Féin. Sinn Féin's newly-formed Organisation and Development Department (a specific outcome of the internal party members' forums) is behind a reinvigorated recruitment drive.
"Having secured the support of some 120,000 first preference votes in the recent general election and with a membership of some 5,000, we have to appeal to that growing number of supporters to give other than their electoral support or goodwill. If they believe in and support our political objectives they can become actively involved in our political project."
And it's not just young people Sinn Féin should reach out to:
"We should also keep the doors open to those who may in the past have have fallen away or become disillusioned in the struggle. We need to maintain a wide appeal and move forward together."
The media's treatment of Sinn Féin has come in for huge criticism from party members and supporters alike. With a particular group of politically motivated journalists in the 26 Counties pursuing a clear agenda of attempting to smear the party and in particular to link it to criminality. On this issue, Ó Caoláin is very clear:
"First and foremost it has to be said very clearly that there is no room in our ranks for people involved in criminal or anti-social activities. It's just not acceptable.
"Irish republicanism has, at all times, to be held to the highest standards. People have given their lives in service for the achievement of a society we wish to see on the success of our struggle. There can be no tolerance for people involved in crime.
"There will always be members of the media with an ant-republican agenda and they're going to do what they've always done because they've made careers out of it. I reject them and their efforts as strongly as I do those involved in criminal behaviour. Sinn Féin holds no ground for people involved in criminal activity. Our role and responsibility is to co-operate with the respective policing services – holding them to account and giving voice to the importance of co-operation by citizens and communities with those entrusted to uphold the rule of law."
So, while the frontline of republicanism has clearly shifted South, what is the role of republicanism in Ireland today? How can republican ideals connect to the daily lives of the majority of ordinary people, North and South?
"Our role is to create and deliver a society of equals and that can only be delivered in real terms in the context of an all-Ireland republic.
"We need to explain to people in a language they can understand the type of society we stand for. The media down through the years have tried to create a jaundiced view of what Irish republicanism stands for and that can only be addressed by a concerted effort by republicans to engage more and more with communities, individuals and campaigning groups around the country.
"We have already demonstrated through our growing support, North and South, that people do understand our project and have no difficulty making the right choice.
"We need to broaden our appeal beyond our traditional constituency and build alliances with groups and communities and work in tandem with people in relation to issues like health where there is a runaway train towards privatisation. We need to connect to the daily lives of people North and South.
 "Sinn Féin has to be the party that represents real change – that represents accountable representation – a party that the public can have confidence in, in terms of delivering on our commitments.
"Unlike others we did not offer tax reductions with enhanced public services. Sinn Féin said it was in favour of premium social services but also spelt out that it would have to be paid for. We want to see a fair taxation system that is equitable and based on the ability to pay and that serves the need of every citizen.
"We want to see fair and accessible services in health, education, childcare, and housing – the necessary infrastructural supports to allow for economic development of communities.
"The society we envisage is one focused on sustaining peace, building progress and building prosperity for all without exception."
And the importance of this weekend's public conference in Dublin?
"We must pledge to ourselves and each other that we intend making 2008 a significant year for the advance of our struggle, the development of our party and its preparation for the major contests that lie ahead. We will likely have a referendum on the European Treaty in 2008 and we must fight against that. We should approach this referendum battle as the only party lined up to oppose it with a 'can do' attitude. We can defeat the Government on this matter because the Irish people are not in favour of being led by the nose further into an undemocratic EU.
"We have an opportunity to showcase our party. We now have representation on every democratic fora on the island of Ireland. We're in the Dáil and Seanad. We're in the Assembly, the Executive, the All-Ireland Ministerial Council and the EU, county and town councils. We're the only party that's represented in every nameable body. We have opportunities now that are unprecedented and what we must now do is use these opportunities, use them wisely and build on those successes."  
Caoimhghín Ó Caoláin, seen here on the campaign trail in 1984, was the election agent for the stunning victory of H-Block hunger striker Kieran Doherty TD in Cavan/Monaghan in 1981