1 November 2007 Edition
Tribute to Peter Corrigan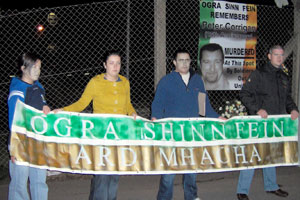 ON 25 October 1982, republican activist Peter Corrigan was shot dead by a unionist paramilitary death squad in Armagh City. The murder was claimed by a group styling itself the 'Protestant Action Force', which was known to be largely comprised of members of the UDR, the locally-recruited British Army regiment notorious for its involvement in collusion and sectarian attacks. The one person charged in connection with the killing was a UDR soldier.
A former internee, Peter Corrigan suffered constant harassment at the hands of British forces. He had been active in Armagh during the early days of Sinn Féin's re-entry into the electoral arena.
Last week, Armagh Ógra Shinn Féin led the tributes to Peter Corrigan on the 25th anniversary of his death.
The Ógra Shinn Féin tribute started with the erection of over 20 black flags along the Loughgall Road and a single Tricolour on the post which marked the spot where he was killed. A large Ógra Shinn Féin banner was then raised to commemorate the anniversary before family and friends and comrades attended a vigil to mark his death.
The main address was given by Councillor Noel Sheridan before Liam Lappin of Ógra Shinn Féin gave a moving rendition of the Peter Corrigan song. The vigil ended with an address from the family.
Armagh Ógra Shinn Féin spokesperson Damian White said:
"Many people have no knowledge of why Peter Corrigan was murdered. The need to educate our youth is great, on the hardships of the past so as to prepare us to be at the fore in bringing about the end of British interference in Ireland. This will be our lasting tribute to the memory of Peter Corrigan and all our fallen comrades."