1 November 2007 Edition
Book on Irish women wins international award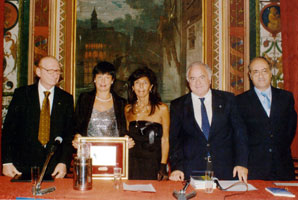 ITALIAN journalist and writer Silvia Calamati, who has spent the last 25 years documenting the stories of nationalist women in the Six Counties, is the winner of the 11th International Literary Award, Storie di Donne 2007, in Salerno, Italy.
Her book, Figlie di Erin: Voci di Donne Dell'irlanda del Nord, was chosen for the first prize among nearly 100 books from England, Spain, Italy and Greece.    
The book is the Italian version of The Trouble We Have Seen: Women's Stories from the North of Ireland, which was launched at St Mary's College in August as part of the West Belfast Festival. It has also been published in Spanish with the title Hijas de Erin (2006).
Silvia Calamati, who was awarded the Tom Cox Award in Belfast in 2002, has already been invited to launch the book in Bilbao and Barcelona.
The book is a collection of very strong and moving stories of women and of their experiences at the hands of the British state and unionist paramilitaries. Each chapter covers events in prison, Castlereagh, shoot-to-kill incidents, poverty, repression and plastic bullets.
Rosemary Nelson, Diane Hamill, Emma Groves and Roisín McAliskey are some of the women in the book.
Silvia Calamati said:
"I started to write this book after Rosemary Nelson was killed. Her assassination was a turning point in my life. I realised that I had to do as much as I could to make those voices be known, not only in Italy but also to a wider worldwide audience.
"I have dedicated this award to Emma Groves, who fought all her life against plastic bullets. Her courage is the symbol of the strength and determination of so many Irish women."
Francesco D'Episcopo, Professor of Italian Language at the University Federico II in Naples and a member of the jury, said:
"Silvia Calamati's book has won because it has broken the silence and censorship on women and children who have paid a high price during the conflict in North of Ireland."