1 November 2007 Edition
Concerns over British Government handling of Pat Finucane inquiry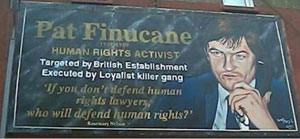 A Sinn Féin delegation, including Gerry Adams MP MLA, Martin McGuinness MP MLA and Bairbre de Brún MEP, met the British Secretary of State Shaun Woodward, last Monday, 29 October.
Speaking after the meeting Sinn Féin MEP Bairbre de Brún said that among the issues discussed were the widespread concerns about the way the British Government are dealing with the demand for an inquiry into the killing of Pat Finucane.
"We also expressed to the Secretary of State the need for full progress in implementing all the remaining elements of the St Andrews Agreement, including Irish language legislation", the Sinn féin MEP said.