1 November 2007 Edition
SF wins Committee places after battle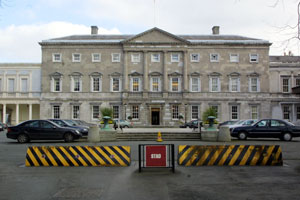 The attempt by the Fianna Fáil/PD/Green Government and Fine Gael to restrict Sinn Féin's access to Oireachtas Committees was thwarted when a Dáil protest by the four Sinn Féin TDs forced a public climb-down by the Government.
Government Chief Whip Tom Kitt divided up Committee membership  between Government and Opposition with Fine Gael effectively given the power to determine what Committee places would go to Opposition TDs. This would have resulted in only one Committee place for Sinn Féin, that of Caoimhghín Ó Caoláin on the newly formed Committee on the Implementation of the Good Friday Agreement. Ó Caoláin maintained pressure on Tom Kitt and Fine Gael leader Enda Kenny and when the Government published its motion on Committee membership on 25 October Sinn Féin had been allocated two further positions. However, Deputy Martin Ferris had been allocated no Committee place.
The four Sinn Féin TDs protested at the Order of Business, calling several votes which delayed Dáil business for an hour. Ó Caoláin pointed out that some Government and Fine Gael TDs had been allocated two Committee places while he, as Sinn Féin Dáil leader, had to fight for the right of each of the Sinn Féin TDs for membership of a Committee. He protested that the Government had presented a 6:4:1 formula for membership of Committees whereby every committee was to have six Government members, four Fine Gael members and one Labour Party member. "This outrageous proposition totally ignored the right of smaller parties and Independents to take up their rightful places as members of committees," stated Ó Caoláin.
After Sinn Féin's Dáil protest the Government Chief Whip agreed that Martin Ferris TD, who had been allocated no Committee position, would be on the Agriculture, Fisheries and Food Committee.
The Sinn Féin Oireachtas members have pledged to continue their battle to gain access to two key Committees from which they have been excluded – Health and Children and Justice, Equality, Defence and Women's Rights. Caoimhghín Ó Caoláin and Aengus Ó Snodaigh have extensive work records in these areas and maintain their right of access.
The following are the Committee positions allocated to Sinn Féin:
Caoimhghín Ó Caoláin
Implementation of the Good Friday Agreement

Aengus Ó Snodaigh
EU Scrutiny

Arthur Morgan
Enterprise, Trade and Employment
Martin Ferris
Agriculture, Fisheries and Food
Pearse Doherty
Arts, Sport, Tourism, Community, Rural & Gaeltacht Affairs