1 November 2007 Edition
Party begins fightback in 26 Counties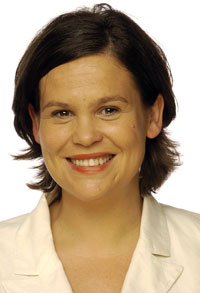 BY Shane Mac Thomáis
Over the past month the final stage of Sinn Féin's post election internal review process has been taking place throughout the country. In each Cuige area activists, organisers and leadership have come together to debate an overall strategy to deliver Sinn Féin's renewed political objectives in the run up to the EU Reform Treaty and 2009 local and European elections.
Party development, preparation for 2009 elections, the roll-out of priority campaigns, political management, restructuring the approach to publicity and an improved working dynamic between political institutions and local party structures were among topics covered. Deliberations concluded last week.
An agreed plan of work will now be launched throughout the 26 Counties with a series of conferences due to begin on Saturday, 3 November. Key to the party strategy will be a cohesive activist base that has the energy, strength and political will to deliver Sinn Féin's priorities over the coming years.
When asked to outline the purpose of the conferences Sinn Féin National Chairperson Mary Lou McDonald MEP said:
"Sinn Féin had a disappointing general election but put in perspective republicans have overcome far greater setbacks in the past.
"Let the political establishment be in no doubt but that Sinn Féin is rarely as strong as when we are under pressure. It has been our political reality since we took up this struggle.
"Over the summer party leadership engaged in intensive consultations with activists across the 26 counties on how we collectively go forward. The resolve by party membership post the election has been inspiring. It is clear republicans and supporters alike will not allow this setback to deter them in their fight for united Ireland. The delivery of equitable public services, safe communities, a first class health service and a vibrant economy that works for ordinary people remain our political focus. The conferences to be held this month are a line in the sand, the fight back starts now."
Contributors to the conferences include Ken O'Connell, Declan Kearney, Arthur Morgan TD, Mary Lou McDonald MEP, Martin Ferris TD, Seantor Pearse Doherty and Cuige Officer Board members. A strong attendance from all party members is encouraged.