1 November 2007 Edition
IMMIGRATION & INTEGRATION : Can we do the right thing?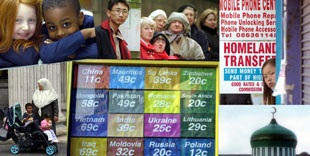 Welcoming workers but not citizens?
BY ROBBIE SMYTH

THE 2006 CENSUS paints a picture of an Ireland in transition. No longer are we characterised solely by a relatively young population or higher than average birth rates. Ireland, North and South, is an island going through a period of rapid social change.
In the 26 Counties there were, according to Central Statistics Office statistics, more than 400,000 non-Irish nationals out of a total population of 4.23 million people. In the period 2002 to 2006, over 186,000 people had come to Ireland to make a home: some for a few years while many were settling here, hopefully, for good.
It is here that the problems begin. There are some things in Ireland that we are not good at. Forward-planning is one. Dealing justly with the dispossessed is another. Everything is compounded by a society where government and its institutions pay lip service to the idea of equality, especially in terms of equal opportunities, but in reality only partially practice it.
And so these 400,000 people came to live in a state on an island where one in four people have only primary education, where one in five children are leaving school early, where one in five people suffer deprivation and poverty, where housing waiting lists are the norm, where health and social services are in crisis, and where the existing infrastructure – from primary schools to transport  – creaks under the weight of malformed decision-making and systematic under-funding.
What has this got to do with immigration?  Simply that the net inflows of new residents has highlighted, and at times exacerbated, the flaws and failures in the system of how we do business in Ireland.
Our failures to plan for transport, housing, healthcare and education and to guarantee individual rights have been compounded by immigration and highlighted the wrong choices taken at a policy level in how we build  communities, treat each other and shape political participation in Irish society. As a society, we have allowed the Establishment to get away with excluding and exploiting the economic and socially marginal while rewarding and cushioning the already wealthy and privileged.
In short, we have treated each other badly for decades and immigration has brought this discrimination into a much clearer focus.
There are affluent immigrants in Ireland but they are the exception. Most are poor. Many arrive with young families and have more children quickly when they arrive. They come, literally, with little more than the clothes on their backs and battered holdalls, hoping that life here will be better than Poland, Nigeria, Latvia, China, India, Pakistan... The list is getting ever more diverse but the motives for coming to Ireland are consistent.
So what reception can they expect in 'Ireland of the Thousand Welcomes' that only in the past couple of weeks was declared by the Lonely Planet tourist guide to be the most welcoming place in the world?
A more accurate account of Irish attitudes was provided by a survey team from the Economic and Social Research Institute (ESRI) in November 2006. The report on migrants' experiences of living in Ireland is compelling reading. It doesn't read like an Ireland of the welcomes.

•    35 per cent of migrants — more than one in three — had experienced harassment on the street, other public places or on public transport.
•    32 per cent of those entitled to work experienced harassment in the workplace. Over half the black Africans surveyed experienced harassment in this way.
•     21 per cent of immigrants reported discrimination when it came to getting work.
•     More than one in ten reported being refused entry to a restaurant.
•     A similar number were victims of violence and crime.

More recent studies on immigrants' wages (also by two ESRI research associates) sheds new light on the economic life of immigrants. They found that immigrants earn 18 per cent less on average than native workers in the same jobs, rising to 31 per cent for workers from non-English speaking countries.
The survey authors, also found what they call an "occupational gap" and immigrants are less likely to be in higher level occupations. This gap is not narrowing. The higher the skill set and qualifications of migrants, the larger the wage gap will be for them.
Taking all of this data together, it is clear the Irish have problems sharing the towns and cities, the workplaces, the public streets and shops with the new Irish who have come to live and work here.
None of these issues should have surprised us, as most Irish people have first-hand experience of emigration and the raw deal that Irish immigrants received at times in the USA, Britain or beyond. The Irish Government has lobbied in the United States on behalf of the thousands of migrant Irish who do not have Green Cards or US citizenship and live and work illegally in the USA.
We should remember and understand the reasoning underpinning the networks of communities that the Irish built in the countries they migrated to, from Kilburn to Melbourne, from Birmingham to Boston. Whether it was on the building sites and other workplaces they colonised, or in the unions, the local political organisations, or just the mundane structures of local society, over time, the Irish packed them with their own representatives.
So the surprise exhibited in some quarters today at the building of social infrastructures by the new Irish – whether it is the distinctive local shops, places to worship, eat or drink, or sports to play – is essentially at best misplaced or at worst a denial of what we know is the only way to survive in what is clearly at times a hostile and challenging environment to live in.
Perhaps the Irish problem in accommodating migrants is rooted in our own experience as being not just ruthlessly colonised but relentlessly so too. The Irish are the victims of racism and therefore can never be the perpetrators of it, some suggest. It is a false comfort zone.
So can we move from being the victims of colonisation to accommodating multiple cultures in Ireland today? It would seem at some level we have all the right ingredients to solve these problems. As a people, we begin with direct experience of what discrimination and exclusion is like. This is complemented by the ideological solution of modern republicanism rooted in the basic promise of rights for all and absolute sovereignty of the rights of the individual to freedom of political expression and of religion.
In an economic growth period of unprecedented length, where we are now entering a third decade of unsurpassed wealth creation, surely there is room at the table for everyone?
Maybe part of the problem of economic and political integration is that there are no really successful models to emulate.
If there were, then London's Metropolitan Police would not be stumbling from one racist crisis to another and one lengthy public inquiry to another.
If there were, then the suburbs of Paris would not have been set alight in 2005. And in Cologne, London and Boston there would not be planning objections to new mosques being built by not just a growing Islamic population in each city but an increasingly wealthy and economically powerful ethnic grouping too.
Then there is the problem that the only two working theories of coping with mass immigration are rooted in the colonial experience as former imperialists like Britain, France and Germany attempt to come to terms with their exploitative and violent past.
In many of these states the solution trumpeted is 'multiculturalism', a model first adopted by the Canadian Government in 1971. Canadian multiculturalism is a complex series of measures, many of which have been replicated elsewhere.
Its essential components –stipulated in the Canadian Charter of Rights – are to affirm "the value and dignity of all Canadian citizens regardless of their racial or ethnic origins, their language, or their religious affiliation". In Canada this meant recognising the rights of the aboriginal people and French as a second official language.
The Charter of Rights also "recognises the potential of all Canadians, encouraging them to integrate into their society and take an active part in its social, cultural, economic and political affairs".
It sounds good and the model has been adopted in Australia and Sweden. Other states, like Britain and the USA, have adopted multicultural policies but in fact operate what in the USA is often called the "melting pot" model.
Long-term mass immigration has been the feature of the USA since the formation of the original states, but it doesn't explain how the super power that evolved is dominated by a white, English-speaking political and economic elite even though the actual ethnic and cultural make-up of the USA is much more diverse than this.
This brings us back to the Irish experience in the USA and Britain, where the success (if you can call it that) of the Irish emigrants in the USA was to build a competing economic and political machine to take what power it could for itself, often at the expense of other immigrant groupings.
In the USA, it is perfectly acceptable, if not a political plus, for a member of the US Congress or US Senate to describe themselves as Irish, but it would not be seen so beneficially in Britain, which too has a substantial Irish community, subsumed politically in the most part in the British Labour Party and the trade union movement.
So, in 21st Century Ireland, it would seem that the multicultural model offers some choices. The nub, though, is how do we implement multiculturalism in our schoolyards, workplaces and housing estates, for it is in these arenas that most conflicts and discussions about immigration issues is centred.
The core problem in the case of the schoolyards and housing is funding. We don't spend enough money on our schools and going forward we need to spend much, much more and accept that, in many schoolyards, English and Irish will be one of just many languages spoken and learned.
When it comes to housing in Ireland, it has to be said that the state has a history of building ghettoes. With an explosion of new apartment complexes, with tens of thousands of two-bedroom units, it seems that we have built a new generation of ghettoes. It might be hard to see now as the paint is still fresh and the brickwork not yet faded, but the planning principles are a sham. Families cannot thrive in these environments and in many parts of Dublin these tax shelters are filled with renting students and migrant workers, packed into bunk beds in tiny rooms that pass for living spaces.
So we need to deal with the housing issue, not just for the migrants but for all who live in sub-standard accommodation. In essence, this issue about resources and services isn't about immigration at all. It is about redefining what should be the acceptable minimum for all.
This still leaves the central, most complex and most challenging aspects of immigration: the fears of the resident population and the process by which you accommodate the increasingly divergent beliefs of the growing immigrant community and their cultures.
In New York and elsewhere it has lead to bizarre practices such as banning Christmas displays in public schools, or the question of covered heads of Muslim girls in French schools. Is Ireland heading for these confrontations? Again, the models in operation don't offer much solace or solutions. The British police allow Sikhs to have their turbans as part of their uniform but female Muslim teaching assistants are banned from wearing a hijab veil in class.
Respecting diversity and promoting diversity requires dialogue. Real dialogue is only possible in a democracy, which brings us to the nub of the immigration issue. Are we welcoming workers or citizens? There is only one feasible answer and the longer we delay recognising it the harder the problem will become to resolve.
And again, like the resource issue, maybe we need to redefine what should be the acceptable threshold for how much input the ordinary household gets to make in the community life. In truth, this could be a never-ending project but the longer it is delayed the harder the process becomes.
It is hard not to be struck by the impermanent nature of Irish society, which however hard some try to fix boundaries and limits to, is ever-changing, and ever-denying and refuting an absolute definition.
For example, I sit at a desk in what was once a British Army barracks but now lives on as a third-level college. The site was also once home to a workhouse for the pauperised Irish and a small prison that once held O'Connell and Pearse en route to a longer stay in Kilmainham Jail.
Across the road, some fine-looking red-brick houses, once home to some of the British garrison's officers, now house a diverse groups of residents. Well-to-do Irish families live side-by-side with a mixture of student renters, along with the new Irish, which in this area is a diverse mix from the Middle East, Africa and Asia.
The two nearest Protestant churches have been transformed. One houses luxury apartments while the second is now home to a mosque. And in what was once a Jewish area of Dublin, the synagogue is the location of a hearing aid firm. Halal butchers, grocers and a range of other outlets, offering the cuisines of India, China, Pakistan and others, have replaced the Jewish shops. The local post office is packed out daily, not with pensioners and welfare claimants but with a much different clientele, sending money and what seems an endless amount of letters and bulky packages back to loved ones overseas.
If you walk just another 800 metres back towards the city and the original Viking settlement, you pass through Black Pits, Weavers and New Market squares, an area that was the industrial hub of the city just 200 years ago and home to a community of skilled workers and merchants, many of them French Huguenot immigrants whose history is now mostly forgotten.
You can follow the canal towards Irishtown, a pleasant hour's walk, the place where the Irish were forced to live outside the walls of Dublin for fear of rebellion by the natives. This is not a unique situation of enforced ghettoisation. Limerick, Kilkenny, Athlone and even Clonmel all had similar laws and exclusion of the Irish from the towns built by the Normans and, later, the British occupiers.
In fact, when you think of the original Viking raiders who built Dublin, the Normans who conquered it, the Tudors and other English monarchs who used it as a platform from which to conquer and subdue the island, it is harder to see the town as truly Irish, either then or now and it is even harder to define what it is to be Irish. But it is clear that those who obsess with definitions usually have the worst reasons for doing so.

An Phoblacht Magazine
AN PHOBLACHT MAGAZINE:
Don't miss your chance to get the second edition of the 2019 magazine, published to coincide with Easter Week
This special edition which focuses on Irish Unity, features articles by Pearse Doherty, Dr Thomas Paul and Martina Anderson.
Pearse sets out the argument for an United Ireland Economy whilst Pat Sheehan makes the case for a universally free all-island health service.
Other articles include, 'Ceist teanga in Éirinn Aontaithe', 'Getting to a new Ireland' and 'Ireland 1918-22: The people's revolution'.