1 November 2007 Edition
Special Branch thwarts inquiry into brothers' killings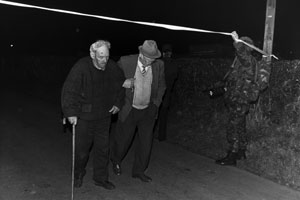 THE REPORT issued by the Police Ombudsman's office into the UVF killings of two young Armagh brothers 14 years ago has once again exposed the RUC Special Branch, says Sinn Féin Assembly member John O'Dowd.
In her report into the shootings of 22-year-old Gerard Cairns and his 18-year-old brother, Rory, in their home at Bleary, near Lurgan, on 28 October 1993, Police Ombudsman Nuala O'Loan found that Special Branch officers failed to pass on relevant intelligence to the team investigating the attack.
The Ombudsman also disclosed that "most of the significant forensic exhibits relating to the case had been lost by the RUC" and that the records of interviews with nine loyalist suspects had been destroyed because, according to the RUC, they had become contaminated by asbestos!
O'Loan also found that the RUC "had begun to wind down the investigation within just weeks of the murders" and "a decision was taken at senior level in the RUC to move the Senior Investigating Officer (SIO) and his deputy to other enquiries".
Reacting to the report, Sinn Féin's John O'Dowd raised further questions about the way in which the evidence of an off-RUC officer who identified the man who bought the getaway car used by the UVF gang after the killings at an ID parade in Lurgan RUC Barracks three months after the shootings was treated. The senior RUC officer in charge of the ID parade maintained that no ID was made.
According to O'Dowd:
"This serious contradiction, in such a crucial aspect of the investigation, speaks volumes about how seriously the investigation was handled."
Nuala O'Loan found that although significant efforts were made  to track down the man who bought the car "a number of investigative opportunities were missed or were not recorded in police documentation".
Gerard and Rory Cairns' family have always maintained that the crown forces were aware of the attack on their home.
In the two weeks prior to the attack, one of the gunmen was seen lurking near the Cairns family home.
The RUC was aware of this yet the alleged killer was never charged. Indeed, Eamon Cairns, the dead boys' father, believes the Special Branch protected the assassins as they were both working for the RUC.
Said John O'Dowd:
"Many people believe that a UVF unit, led by Billy Wright, acted with impunity in the North Armagh area in the early 1990s. Mrs O'Loan's report shows that after the murder of these two young brothers the RUC displayed a lack of vigour and determination in catching their killers. And the spotlight is once again shining on the Special Branch who shielded sectarian killers."