18 October 2007 Edition
Sheena Campbell remembered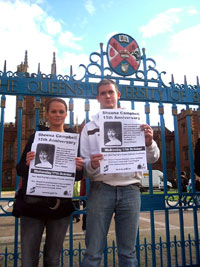 Tuesday 16 October marked the 15th Anniversary of leading Sinn Féin activist Sheena Campbell.
A unionist paramilitary death squad murdered Campbell as she socialised with friends at the York Bar, in the University area of South Belfast. She was studying at Queens University.
Speaking on her death at the 1992 Sinn Féin Ard Fheis Gerry Adams said:
"Sheena Campbell was murdered because she was a republican, because she was a woman, because she was a leader of our struggle..."
The high regard in which Sheena Campbell was held by republican activists has ensured that two University cumainn, at Queens in Belfast and DCU Dublin, are named in her memory.
The Sheena Campbell Ógra Shinn Féin cumann at Queens organised a number of events on Wednesday to remember Sheena's life and legacy. The early afternoon saw a vigil at Queens University front gates while the inaugural Sheena Campbell Memorial Lecture was delivered later that evening by Belfast republican Eibhlin Glenholmes at Peter Froggatt Centre in Queens.
Grace Lynch of the Sheena Campbell Cumann said:
"Sheena Campbell was an inspirational and far sighted activist whose electoral strategy helped professionalise Sinn Féin's approach to elections. She displayed many leadership qualities in her young life, and her death was a huge loss to the republican struggle."
She said Wednesday's events had been organised to remember Sheena's life and to send a message to unionist paramilitary death squads and colluders among the British securocrats that her legacy will be "a confident, educated activist base achieving our objectives in memory of people like Sheena".