18 October 2007 Edition
EU treaty undermines interests of citizens - Ó Snodaigh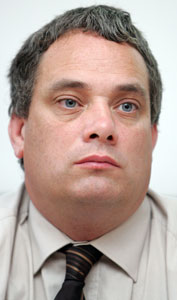 Speaking during a Dáil debate on the EU Reform Treaty on Tuesday Sinn Féin TD Aengus Ó Snodaigh said that despite some slight textual changes the substance of the draft Treaty text so far remains the same as its much maligned predecessor the EU Constitution.
"Later this week leaders from across the European Union will meet to discuss an issue of huge importance to this country.  However, the vast majority of Irish people are probably not even aware this group of European leaders are meeting or what they are discussing", Ó Snodaigh said.
The Dublin TD said it was unacceptable that there was such a brief opportunity to discuss the Treaty. He pointed out that last week on RTE television, Government Brian Lenihan said that Irish people would not tolerate any further diminution of this state's sovereignty, yet that is exactly what his government is rushing to sign up to at the Inter Governmental Conference in Lisbon this week.  
Ó Snodaigh called for much greater public debate of the issues and said there needed to be far greater scrutiny of the EU and that the government need to be held to account and not "dragged along on the coat tails of European federalists".
While Sinn Féin was in favour of close co-operation among European states and for modern, accountable and democratic institutions, the party approached each issue and Treaty on the basis of whether they are in Ireland's interest.
"Our decision to support or reject, to say yes or to say no is based on what we believe to be in the country's best interest", Ó Snodaigh said.
The TD said that Sinn Féin had a number of serious concerns with the draft text as it contains severe flaws which are deeply against the interests of the people of Ireland and the EU as a whole.
"Like its predecessor the draft Reform Treaty will only serve to deepen the democratic deficit between citizens of member states and decision making centres of the European Union. More powers will be transferred from the national to the federal level. More decisions will be taken by a voting weighted towards larger member states", Ó Snodaigh said.
"Worryingly the draft text significantly accelerates the creation of a common Foreign and Security Policy which has significant consequences for the country's neutrality, contribution to EU military budgets and our involvement in military interventions taken by the EU or groups of states in the future.
"Sinn Féin is not opposed to the idea of a new Treaty of which the aim is to adjust to the realities of enlargement. However we cannot support a Treaty that actively undermines the interests of Irish people, the European Union and the wider world", he said.