11 October 2007 Edition
Portadown - worrying rise in sectarianism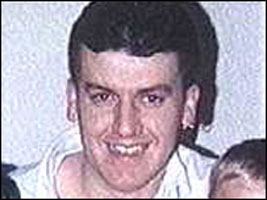 On 8 May 1997, Portadown Catholic Robert Hamill died in a Belfast hospital.
Ten days previously, he had been severely beaten by a loyalist mob as he made his way along Woodhouse Street towards his Obins Street home, in the nationalist sector of Portadown, County Armagh.
On that fateful April night in April 1997 as Hamill, a father of two whose partner was pregnant with their third child, was being savagely beaten by this loyalist gang, an RUC patrol observed the incident yet refused to leave their armoured landrover and to intervene or protect him.
To justify their inaction the RUC later claimed that rival gangs had confronted each other and as the patrol was outnumbered, they were powerless to intervene. That inaction cost Robert Hamill his life.
That nationalists were, and are, fair game for violent attack in the mainly unionist town of Portadown was highlighted again last weekend.
In the early hours of Sunday morning, 7 October two nationalist men in their 20s were set upon by a 30-strong gang of loyalists. The incident took place at Woodhouse Street, leading to Obins Street. A PSNI mobile patrol was in the area yet the crew of the vehicle refused to dismount.
Once again, the PSNI spin portrayed the incident as a fight between rival gangs. However, CCTV footage obtained by the Garvaghy Road Residents Coalition shows one of the Catholic men being punched and kicked as he lay on the ground. As luck would have it neither of those injured in Sunday's incident was badly hurt. Yet, the recent rise in sectarianism in the North Armagh town, which also saw loyalists confront Catholics as they went to church, is a worrying trend.
"'The freedom to live free from sectarian intimidation', promised by the Good Friday Agreement, means nothing if Portadown Catholics are threatened if they venture into Portadown town centre to socialise", said Sinn Féin MLA John O'Dowd.