4 October 2007 Edition
Matt Treacy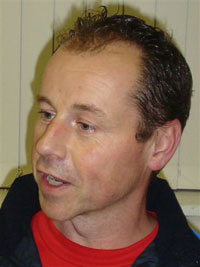 Dare to dream the dream
CROSSMAGLEN won their twelfth Armagh county championship in a row last Sunday. I think that is unique, although Lisbellaw won 11 Fermanagh senior hurling titles between 1991 and 2001 and only failed to complete 14 in a row because the competition was suspended in 2002. Probably because no-one wanted to play them.
Loughmore Castleiney also won 21 Mid-Tipperary senior football titles in a row and 35 out of 36 between 1965 and 2000. But that is only for the anoraks among us... and chaps who might find themselves at a table quiz in Cashel some night. St Vincent's once won 14 of 15 Dublin football titles, sometime back before there was electricity, I think, but we mention that only from a sense of schadenfreude. How the mighty have fallen!
Pearse Ógs stayed with Cross' until half-time but faded badly in the second half as the champions' greater experience, composure and ability to take scores began to tell. The challengers needed Ronan Clarke to have a big game but it was clear that he is a bit off the level of fitness required even at club final level and once Cross' took a grip on midfield the jig was up.
Next in their sights is another Ulster championship and possibly a chance to retain their all-Ireland title. It is a phenomenal record of success unequalled by any club team and if they were to win again next St Patrick's Day they will have set a target that is unlikely ever to be matched.
One can't, however, entirely avoid the feeling that we are witnessing the end of an era. Crossmaglen's golden age began just before, and hugely contributed to, Armagh's advent on the national scene. Cross' won the all-Ireland club championship in 1997 and 1999 and the same year saw Armagh win their first Ulster title since 1982, backboned by Crossmaglen players.
Now many of the stalwarts like Francie have hung up their boots and the other older hands are surely also in the twilight of their careers. Armagh this year were clearly not as sharp or as hungry as in previous seasons and may have to wait a few more years before becoming contenders again. Meanwhile, we will follow Cross's progress through Ulster with interest.
Mick Holden died last week. Most people will recall him as one of 'The Twelve Apostles,' that heroic Dublin team of 1983 that held out three men down against a driving gale to beat Galway in the all-Ireland final. Mick was right-corner-back and it was a day when corner-backs were busy.
I remember that. But the Mick Holden I mostly recall is from a few years before when my uncle was a selector on the Dublin hurling team and he used bring me to matches where I would sit in the dug-out. Invaluable experience for my declining years!
Mick and his brothers, Vinnie and PJ, were permanent fixtures and one day at half-time the three of them made a beeline for one of the Hartigans of Limerick, I think after one of the brothers had been in a bit of bother. Or maybe I am getting it mixed up - or maybe it didn't happen at all.
Mostly I recall peering out at them as they trooped off the pitch into the dressing room, sometimes with grins as wide as Cheshire Cats after a heroic feat: a draw with Kilkenny or beating Cork or Wexford.
They always did their best but sometimes there were terrible maulings and everyone would be looking at the floor or the oranges on the table while the uncle would just shake his head and mutter something meaningful like: "I don't know what to say to you lads."
But the days they won - the days when Mick and the brothers and Joey Towell and Harry Dalton and Matt Allen and the Hennebrys and Peadar Carton filled those old Dublin jerseys, still the same ones as the '50s and '60s because only the footballers had the stylish new good gear, with fire and passion - those were the days. Days when we dared believe for a while.
Then Heffo stole Mick and the rest is history. But he was never lost to the real game and everyone who spoke of him last week spoke of him foremost as a hurler in the red and white of Cuala or the blue of Dublin. I am sure he had no memory of me, the little boy staring wide-eyed at men in blue jerseys taking on the Eddie Kehers and the Tony Dorans, but I'd say they remember Mick.
Rest in peace, Mick. You'll be in good company with Lar and Paul Mulhere and all the other men who dared to dream the dream.

An Phoblacht Magazine
AN PHOBLACHT MAGAZINE:
Don't miss your chance to get the second edition of the 2019 magazine, published to coincide with Easter Week
This special edition which focuses on Irish Unity, features articles by Pearse Doherty, Dr Thomas Paul and Martina Anderson.
Pearse sets out the argument for an United Ireland Economy whilst Pat Sheehan makes the case for a universally free all-island health service.
Other articles include, 'Ceist teanga in Éirinn Aontaithe', 'Getting to a new Ireland' and 'Ireland 1918-22: The people's revolution'.