13 September 2007 Edition
Derry to mark 40th anniversary of Che's death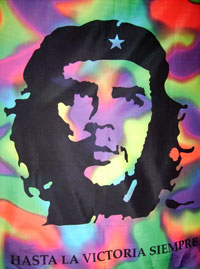 Derry Sinn Féin Cuban solidarity group is holding a weeklong series of events in October to mark the 40th Anniversary of the death of Ernesto 'Che' Guevara, which includes a visit to Derry by Noel Carrillo the Cuban ambassador to Ireland, lectures, film shows, youth forums, seminar, information evening and the unveiling of a new mural.
Sinn Féin MLA Raymond McCartney said:
"Like Nelson Mandela and Bobby Sands, Che Guevara is an international recognisable political figure; the week of planned events intend to look beyond the iconic image to find more about Che the man, his politics and his legacy in many parts of the world.
"It will also look at the shared history of Cuba and Ireland and transition from armed struggle to political struggle. Ireland has long been a beacon for those in the wider world seeking justice and equality and struggling against colonialism and imperialism. We have also learned from other nations who have had to struggle for their freedom. During the 1981 hunger strike Fidel Castro stood up in the United Nations in defence of the men in the H Blocks and the women in Armagh and we must never forget that.
The dates and times of venues will be released in the weeks ahead. If anyone is interested in helping out or being part of the week of events can leave their contact details at 02871 377551."