13 September 2007 Edition
Ógra college recruitment drive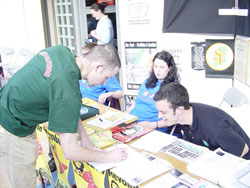 By Oisín Ó Dubhláin
Ógra Shinn Féin is to establish cumainn in more colleges than ever before this Autumn. The organisation aims to have a republican presence in over 30 colleges and Institutes of Technology across the country and eventually to be established at every higher learning institute.
Ógra is to campaign throughout the year on issues relevant to young people and students including road safety, housing, educational resources, campus censorship and college fees as well as contributing to senior party campaigns and tying in with local Sinn Féin cumainn.
Ógra seeks to create a real political alternative to the snobbery and negativity of youth politics and stand as a strong voice for Irish youth.
This is a massive task and Ógra calls on all local party structures to aid them in the development of the republican ethos in colleges across Ireland.
• If you are interested in helping Ógra organise for college freshers this Autumn, or would be interested in joining a College cumann please contact us at
[email protected]
or 00353879153106. All help will be greatly appreciated especially local cumainn.