13 September 2007 Edition
Death threat against Garvaghy Road spokesperson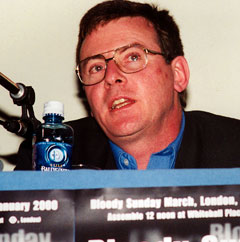 Sinn Féin Upper Bann MLA John O' Dowd has described the latest death threat to Garvaghy Road spokesperson Breandán Mac Cionnaith as totally unacceptable and called for it to be lifted by loyalists immediately.
 "This latest death threat against Breandán is totally unacceptable. There is only one way to resolve the Garvaghy road dispute and that is through dialogue. Use of violence and threats of violence are weapons of the past. I call on those loyalists responsible to immediately end their plans to kill Breandán", O'Dowd said.
"This loyalist operation to murder Breandán appears to have been in an advanced stage when the PSNI warned Breandán of the imminent threat. I would call on the PSNI to make available to Breandán as much information as possible about the nature of the threat so as Breandán can take all necessary measures to protect his family and himself', he said.