13 September 2007 Edition
Death of John Kelly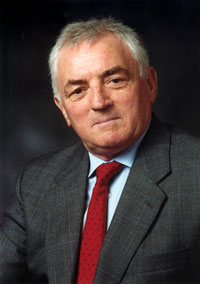 Republicans across Ireland have expressed regret and sadness at the news of the death, on Wednesday 5 September 2007, of John Kelly. The former Sinn Féin Mid-Ulster Assembly member was 71. He died at his home in Beaver Crescent, Maghera.
In a statement the Sinn Féin Chief Negotiator and Six County Deputy First Minister Martin McGuinness expressed his regret on hearing of John Kelly's death and extended his sympathy and that of the party to John's widow Philomena and his daughter Bronagh and wider family circle.
In October 2003 John Kelly declined to allow his name to go forward for reselection to represent the party in the May 2004 Assembly election and soon afterwards resigned from the party. In a statement explaining his resignation Kelly said he disagreed with the direction the party was taking.
John Kelly became active in republican politics in the 1940s. Brought up in the New Lodge area of North Belfast he was acutely aware of the sectarian nature of the one party unionist state.
During Operation Harvest, the IRA's 1950s border campaign, Kelly was imprisoned on three occasions for republican activities. When he was released from prison on the ending of the Campaign in 1962 he remained active in the Republican Movement.
When conflict erupted on the streets of the North in the late 1960s Kelly played his part in the defence of beleaguered nationalist districts, such as the Short Strand, which came under intense loyalist and RUC attack.
Tensions within republicanism at this time resulted in a split within the IRA and Sinn Féin. John Kelly was one of those to walk out of the 1970 Sinn Féin Ard Fheis in Dublin's Mansion House and went on to participate in the reorganisation of the Movement to confront British occupation and repression in the North.
John Kelly was to become a household name when in 1970 he appeared in court  in Dublin charged with attempting to procure arms to defend nationalist areas of the Six Counties against pogrom and unionist attack.
Amongst those in the dock alongside Kelly at the Arms Trial was cabinet minister Charles Haughey, Donegal TD Neil Blaney, 26 County Army Captain James Kelly and Dutch businessman Albert Luyks. All five were acquitted of the charges but the political fallout of the Arms Trial was felt for years afterwards.
Around 1,000 people attended Kelly's funeral, which took place from St Mary's Church in Maghera on Saturday 8 September.