13 September 2007 Edition
Anderson demands end to use of plastic bullets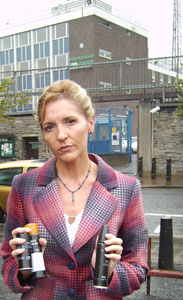 Sinn Féin Foyle MLA Martina Anderson demanded an end to the use of plastic bullets when she addressed a meeting of the North's Policing Board meeting.
Speaking before she went into the meeting on Thursday, 6 September Anderson pointed out that both the UN Committee on the Rights of the Child  (CRC) and the UN Committee against Torture state that plastic bullets (AEPs) should not be used against children and young people.
She said that in the absence of independent medical evidence on the impact that AEPs have on children and young people, that she was calling on PSNI chief Hugh Orde to withdraw them from use.
"Since rubber bullets were first introduced and then replaced by plastic bullets, 17 people, nine of them children and teenagers, have been killed by these lethal weapons. Thousands more were injured, many of them scarred and disabled for life", Anderson said.
"Rubber and plastic bullets were and are a weapon of terror; deliberately used by the British state and its agencies to intimidate and terrorise citizens.
"We need to ensure that no plastic bullets are ever fired again and that the victims of this lethal weapon and their families have the right to truth"
"The Sinn Féin position on Plastic Bullets is clear and unambiguous. We are absolutely opposed to the use of plastic bullets and have campaigned to have them removed for decades and will continue to do so", she said.
A recent study by a group of doctors suggests that the newer plastic bullets cause more harm than the old model. 50 percent of those cases examined had injuries to the head, neck and chest.
Given the controversial nature of this weapon and the recommendations regarding the need for an acceptable alternative in the Patten Report, Martina Anderson has said that "it is unimaginable that the power to deploy it should rest with the Chief Constable and not the Policing Board".