13 September 2007 Edition
Letter to the Taoiseach
A week is a long time. Everyone knows that. The death of Pavarotti, since last we spoke.  And Martin McGuinness named on RTÉ alongside you, Ian and the British Prime Minister as People of the Year.  And tragically, the deaths of four young people who were active in sport, filling people with a sense of disbelief and loss.
I was glad to see Wexford lift the O'Duffy Cup.  Nothing against the camógs of Cork, of course, but I have a loyalty towards Loch Garman when it comes to our national game. I haven't heard from Dave Guiney in a while. Were you talking to him yourself, Taoiseach, recently?
Lest I forget, Carrickmore Éire Og's beat Dungannon Eoghan Rua in the Tyrone County Hurling Final to lift the Benburb Cup once more.  A great game and only one point separating these ancient rivals.
Did I ever tell you, Bertie, that there is a battle going on all of the time within Tyrone between East and West? Dungannon would want to capture Omagh's title as County town and they have taken many initiatives this year aimed at asserting their primacy. I have to say that opening up Castlehill, the headquarters of the O'Neill clan to the people was one such bold strike over the weekend.  On this historic site, we watched Brian Friel's Making History, a brilliant production by Ouroboros Theatre Ireland Ltd. They still have a few more dates to complete in their tour which will take them to Festival dell'Arte, Viterbo, Italy; The Centre Culturel Irlandais, Paris, France; Louvain Institute for Ireland in Europe, Belgium.
Friel was born in Omagh, I always tell the Dungannon ones.  But very often they are not inclined to listen to this argument. You know, Taoiseach, that there is always a great battle going on in society between East and West. For example, you are often accused of ignoring and neglecting areas west of the River Shannon in the same way that the British Government have ignored and neglected areas west of the River Bann for decades. Economically that is, because they left their footprint there otherwise in a way that was less than helpful.
Here, was I telling you about the last meeting of the Culture, Arts and Leisure Committee at Stormont? Very briefly, the Deputy Chairman David McNarry was expected to create problems and bring trouble with him to this particular meeting on the subject of the Multi Sports Stadium destined to be located at the Long Kesh site. Anyway, David did not show but instead sent me a little note explaining his absence.  His daughter had just given birth to a baby girl.  Both mother and baby were well.  You can imagine the goodwill that went around the Senate Chamber.
One of David's unionist colleagues proposed that we write a letter of congratulations to him.   As Caithaoirleach of the committee, I strongly opposed this proposal.
"Write the letter to David's daughter instead", I suggested and consensus was arrived at without further deliberation.  
On a different subject completely, I want to tell you about a ridiculous situation which has meant that the Post Office in Strabane is forwarding letters 'par avion' to families living just a few miles away on the Donegal side of Clady. A lady who wishes to remain anonymous, (a Mrs Boyle), brought this to the attention of her local Sinn Féin MLA Claire McGill.  Apparently, the lady recently moved the few miles from Tyrone to Donegal and instructed Strabane Post Office to forward all post to her new address. So now, her letters arrive par avion and they invariably arrive late. Her daughter's A-Level results came one week later than the rest of her friends'. Is there anything you can do about this, Taoiseach?
Are you going to the All Ireland Final?  Remember, I can get you tickets for the Nally Stand.  But it is now in Carrickmore and it is to be rededicated on Saturday, 29 September.  You might join with Martin McGuinness, Arthur McCallan, and the rest of us on this big day. You might even get your hands on the Benburb Cup.
Is mise le meas
Barry McElduff



NB: Bertie Ahern can be contacted on (00 353) 1 619 4020 or e-mail [email protected]  Address: Office of the Taoiseach, Government Buildings, Dublin 2.
An Phoblacht Magazine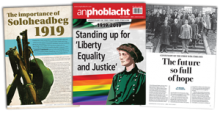 AN PHOBLACHT MAGAZINE:
Don't miss your chance to get the first edition of 2019 published to coincide with the 100th anniversary of An Chéad Dáil and Soloheadbeg.
In this edition Gerry Adams sets out the case for active abstentionism, Mícheál Mac Donncha takes us back to January 21st 1919, that fateful day after which here was no going back and Aengus Ó Snodaigh gives an account of the IRA attack carried out on the same day of the First Dáil, something that was to have a profound effect on the course of Irish history.
There are also articles about the aftermath of the 8th amendment campaign, the Rise of the Right and the civil rights movement.